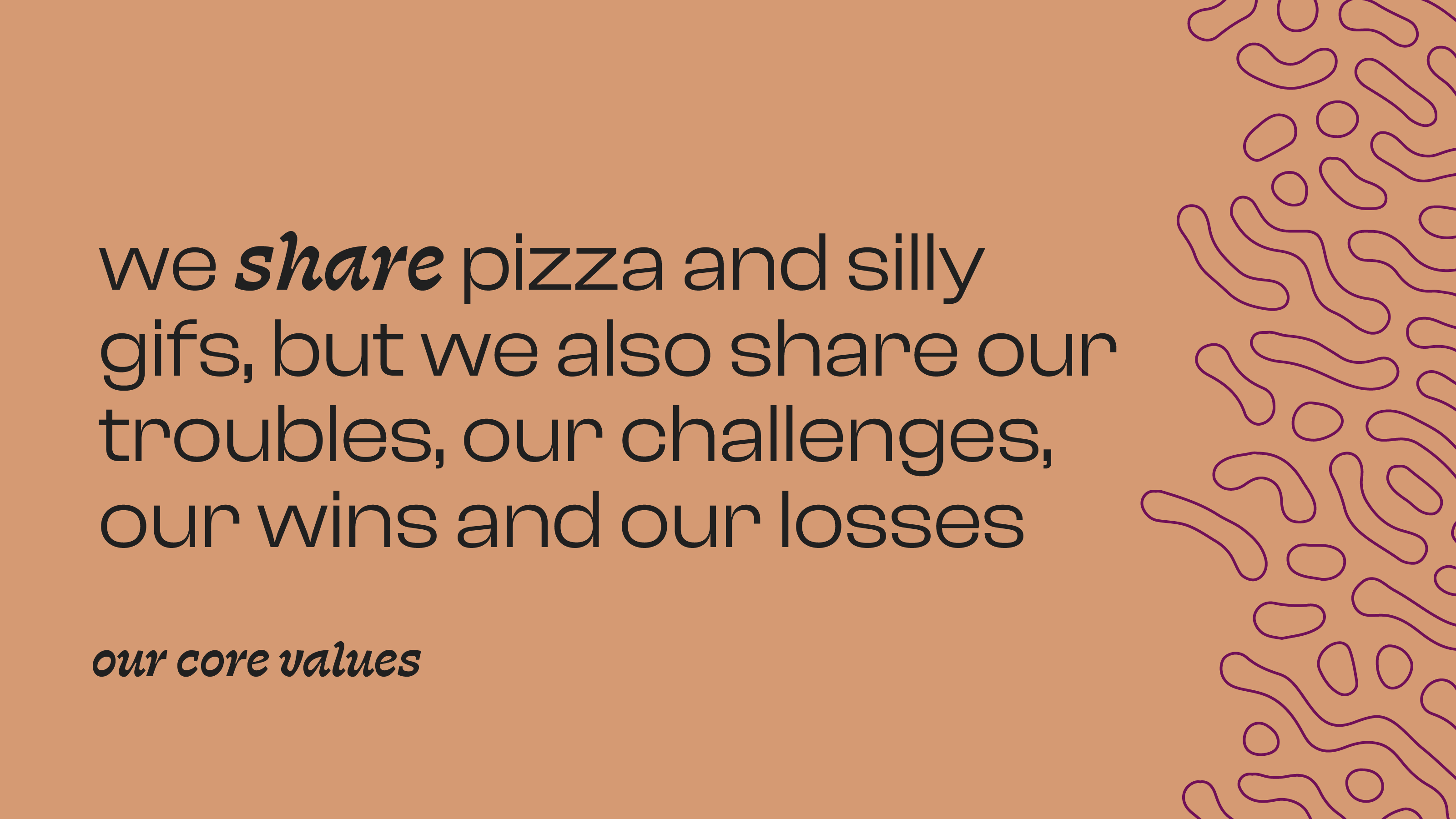 To show you how we practice our core values, both internally and externally, we're breaking each one down into a lovely little journal for your reading pleasure.
Next, we're getting ready to 'Share'.
Go beyond and create impact.
Take the road less travelled.
Listen with empathy. Voice with vulnerability.
Share your thoughts, share the burden, share a gif.
Keep learning. Mistakes are not a failure, just a correction. So be bad until you're good, and good until you're great.
Share
It's as simple as Kindergarten day one: Sharing is caring. We love to share, both literally and figuratively. We share pizza and silly gifs, but we also share our troubles, our challenges, our wins and our losses.
Share your thoughts
We love sharing so much that we've centered an entire meeting around it. Each month the entire team joins for our 'share session' – an hour-long discussion led by our leaders that touches on everything from important company updates to equally important debates about what the best type of french fry is (It's crinkle FYI).
During these sessions we look at ongoing and upcoming projects and even review top-level company finances. Everything is out in the open and questions and comments are always encouraged. Sometimes we even dabble in team-building exercises, which usually brings out our playfully competitive side.
Share the burden
The whole point of sharing is knowing that you're not alone. When one of us is struggling, we want to know about it so that those who have the capacity to help can lend a hand, and those who don't can simply listen and learn.
As much as we love sharing our wins, we're not afraid to share our challenges as well. When we tackle the problem as a team, the problem doesn't stand a chance.
Share a gif
Rock & Bloom's preferred communication channel is Slack, and boy do we make it worth our while. Slack is our wild west – where conversations go from "Hey, have you watched this documentary on the world's creepiest cults" to "What type of socks are most appropriate for everyday wear" in two seconds flat.
Food polls are our love language, sarcastic gifs are our actual language, and we share unpopular opinion rants like we're being paid by the letter.
For us Slack is so much more than a simple means to communicate; it's a way to connect on a deeper level, learn new things about each other, and develop severe FOMO when you're away from the chat, even while on holiday.
Share your spark
At Rock & Bloom, we believe in sharing who we are. We want to know what makes you tick, what grinds your gears, and what your favourite pizza topping is.
And speaking of pizza, our favourite thing to share is food. Whether we're lovingly crafting homemade donuts and cookies to bring into the office, giving a review of the new restaurant that just opened up down the street, or planning out the nitty gritty menu details of the Rock & Bloom Christmas party, we will find any excuse to put the spotlight on food.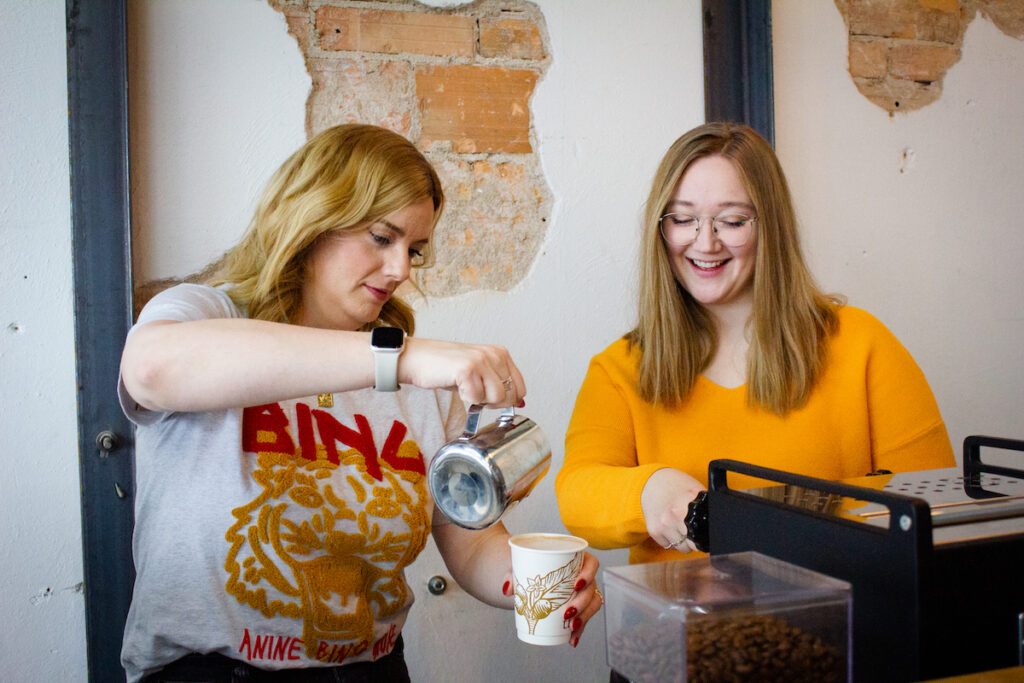 We are so grateful to have a diverse group of individuals that make up our team, and that are willing to share those unique parts of themselves with us. When Mona gifted the team with prayer beads and openly answered our questions about EID, or when Paige took over our social media channels to teach us all about Chinese New Year – those are the moments that shine a light on who we truly are.