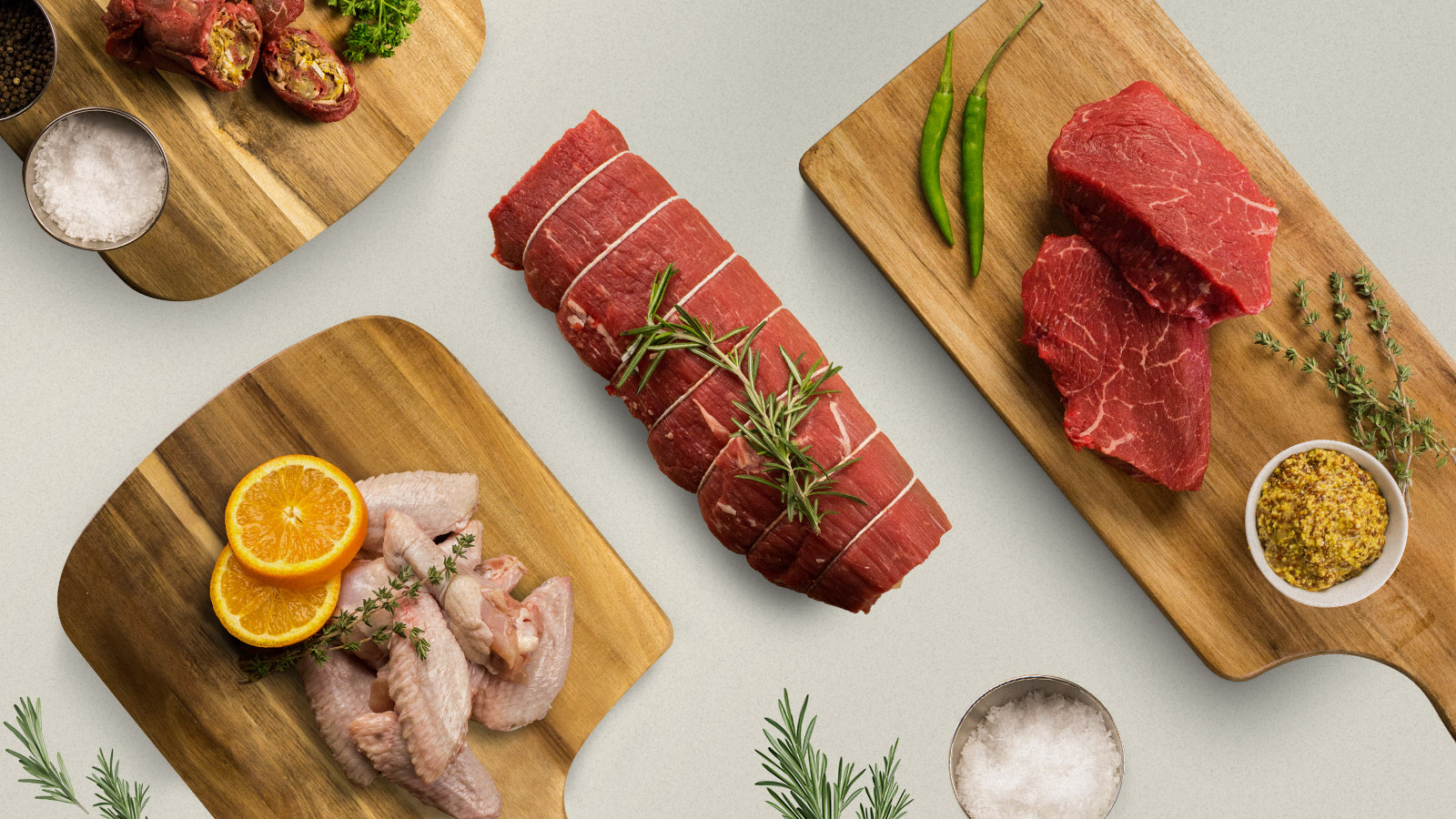 Pine View Farms is known locally as the best place to get meat in Saskatoon.
They raise meat you can feel good about feeding your family — raised right, close to home, and full of flavour. They needed their brand and website to reflect their story while emphasizing online ordering and recurring subscriptions.
The Problem
The owners, Melanie and Kevin Boldt, at Pine View Farms are always pushing themselves and their business to grow. Serendipitously, we had connected with Pine View Farms well before COVID struck with the goal of enhancing their overall user experience for their online store. Meat subscriptions were an extremely manual process for Pine View at the time and they were not seeing the true potential and opportunity of a strongly architected and designed online customer experience. From their website to Instagram feed, Pine View's touch points lacked brand consistency. We needed to bring a cohesive brand experience to Pine View Farms' marketing.
The Scope
The project scope included:
Website design and build
Online selling strategy
Brand enhancements
Brand collateral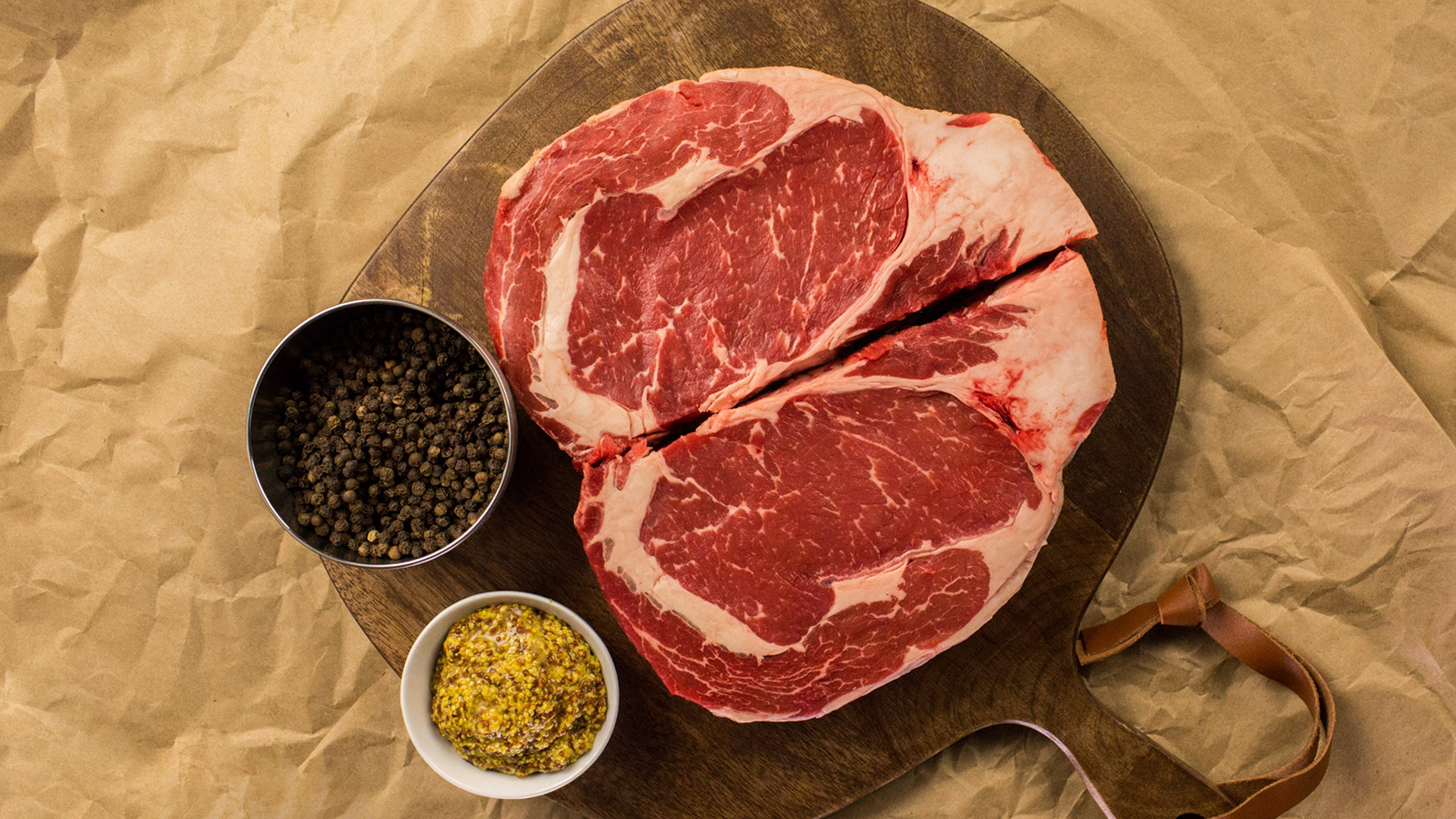 The Process
Creating a cohesive brand strategy involved defining their North Star metric, completing a brand workshop, building the site architecture, conducting market and competitor research, developing a brand voice and key messaging, copy ideation, building a product hierarchy, and coming up with a shot list for photography.
Our process for developing a strong brand includes in-depth research and strong communication with the client, so that we can carve out a path for success. It takes a lot of listening and empathy to reimagine a brand, and create something that resonates with the company and the marketplace.
At the core of that fundamental work is key messaging. How Pine View defines themselves is critical to all aspects of not just their branding but their business decisions as well. Here is a short snippet of their overall key messaging.
"We are local farmers and butchers that value the traditions of our craft; giving you quality meat you can trust and are proud to share with others."
Starting the process with a strong strategy allowed us to collaborate easily and begin building out the rest of the brand.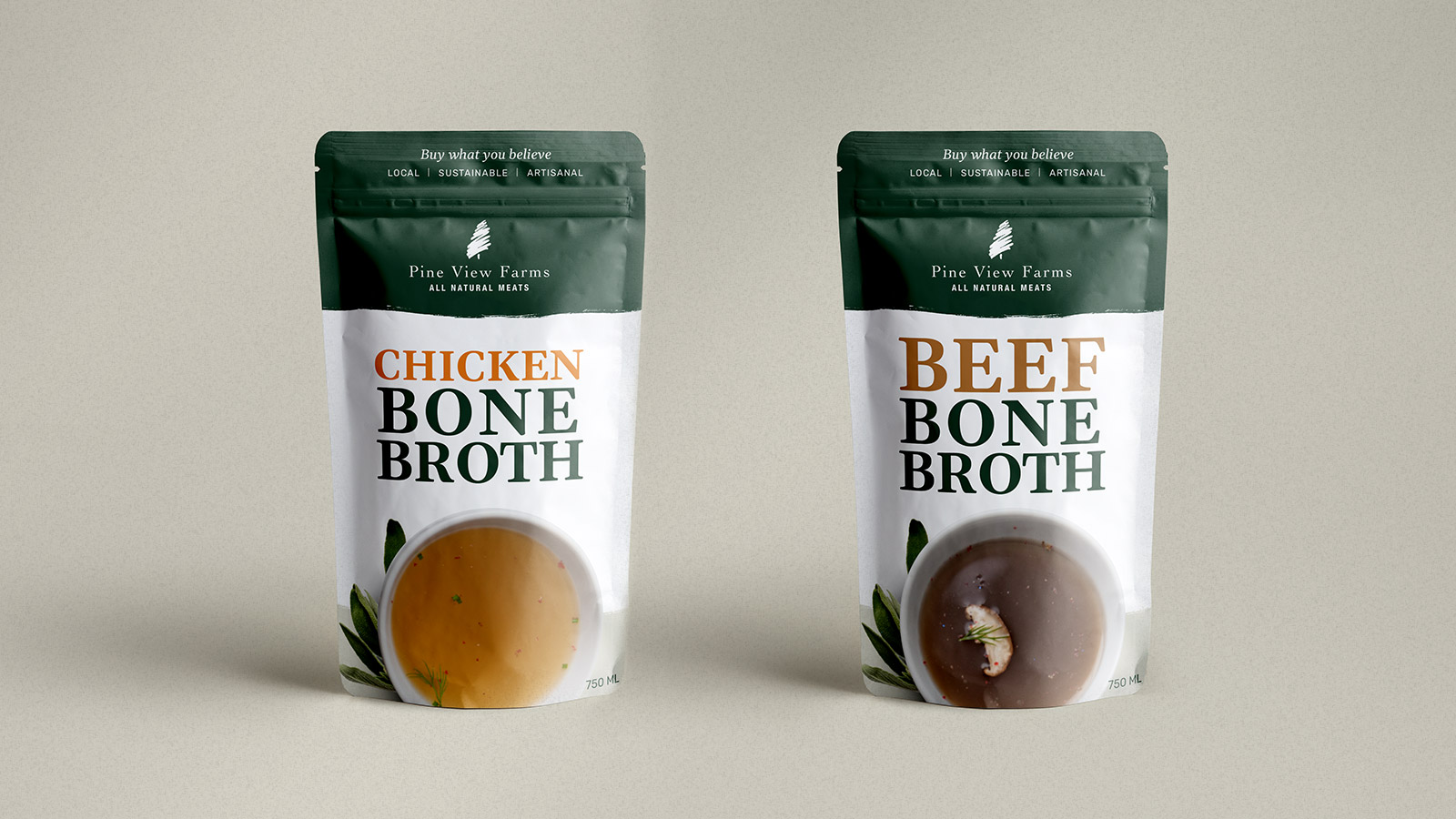 Strengthen and define brand and visual identity
One of Pine View's goals was to elevate their brand, and we were able to accomplish that through strong messaging, as well as polished and attractive design. Our goal is to strengthen the feelings behind "From our farm to your door."
Photography and site building
High quality photos make all the difference. Our goal with Pine View Farm's website was to show, not just tell, their story. The warm hues with pops of bright colour capture your attention and showcase the quality of their premium meat.

From ideation to insertion to launch, the process was collaborative. Bringing the content, design, and photography together, we created a unified brand that will stand the test of time.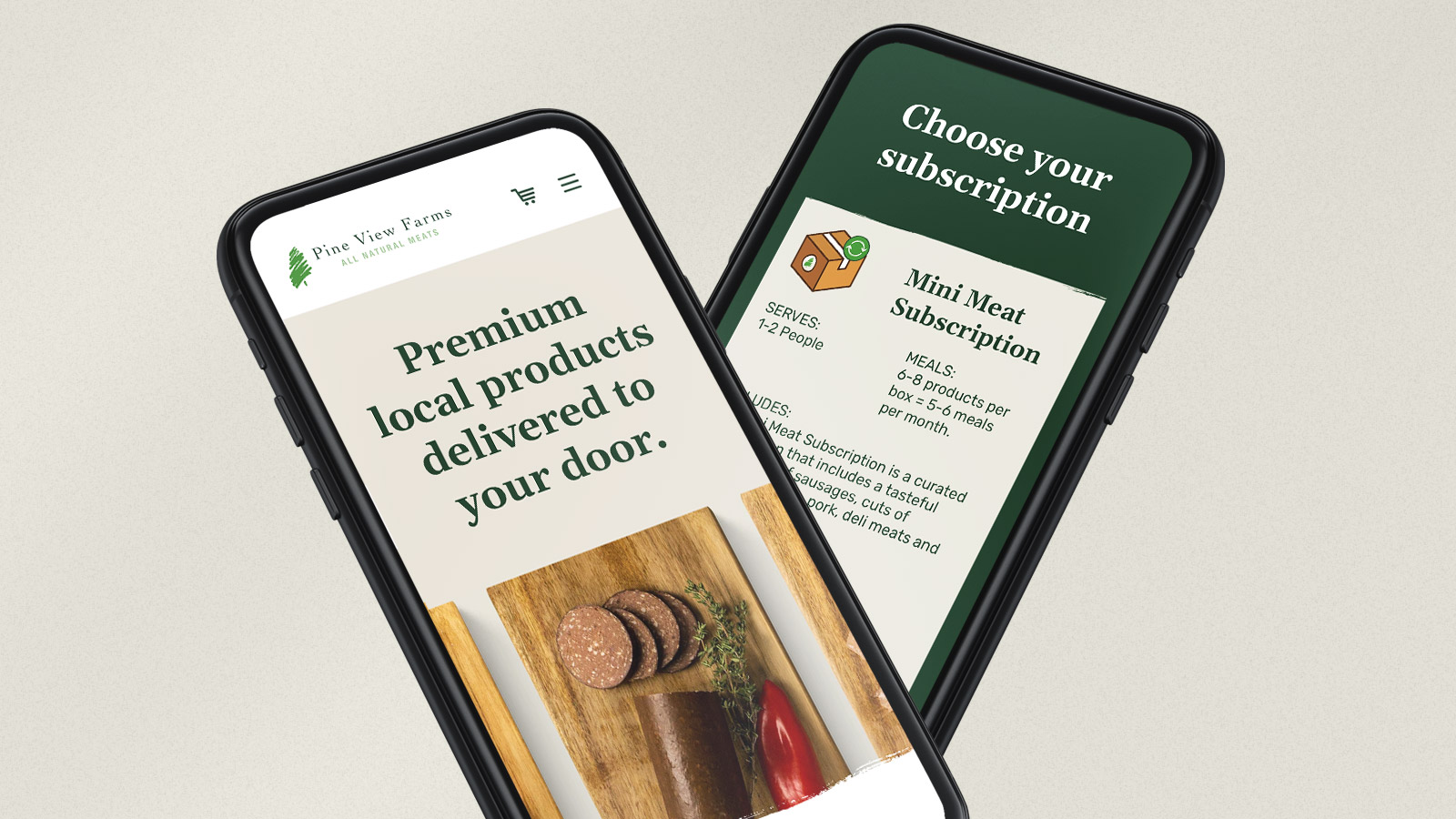 "Rock & Bloom is truly an extension of our in-house team. The combination of technical, design, and marketing knowledge that they brought to our project resulted in a beautiful, functional website that has elevated our brand and provided an improved customer shopping experience. Moreover, the support after launch was incredible! We felt taken care of every step of the way."

Melanie Boldt, Co-Owner of Pine View Farms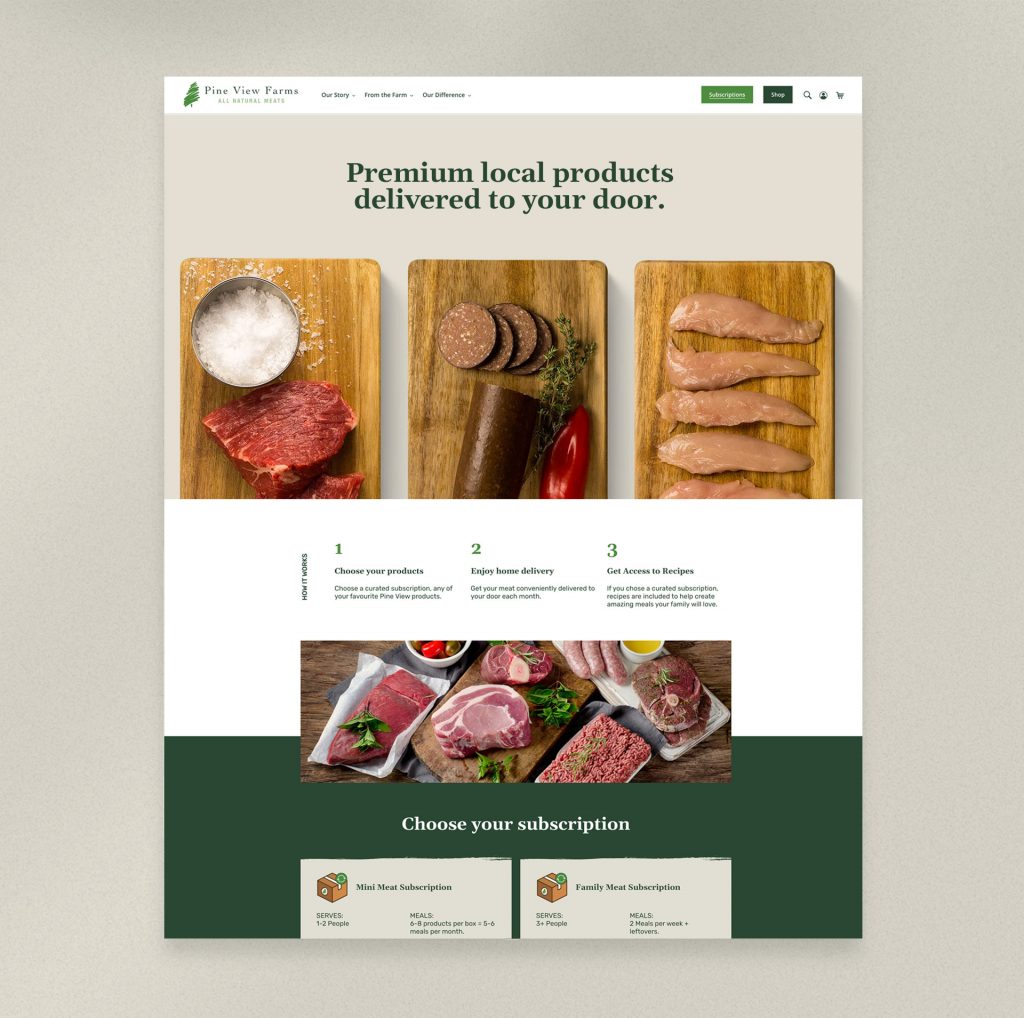 The final step was to measure the outcome of our work.
"As a result of the pandemic and a new website, which enhanced our customer interface, our subscriptions rose by 80% in three months.
The site improves the customers' experiences with us and it improves workflow for our staff. It has helped us retain customers through the pandemic when many new customers flocked to us for locally raised meats.
I can't believe how serendipitous it was that we launched this new website last year in the height of the pandemic panic. It proves to me that pandemic or not, the foundations of running a good business remain the same in terms of overall business management, and in this particular case, customer service."
– Melanie Boldt, Co-Owner, Pine View Farms

Customers can now connect with Pine View Farms in a way that is truly authentic to their brand. From convenient and quality subscriptions to delicious recipes, Pine View Farms is able to show off their best assets and share their passion for clean, natural, and delicious food with the community.
Explore Pine View Farms' website and brand refresh. Do yourself a favour and try their meat — you'll be amazed at the difference.