There's an easy way to get to know someone: ask them what they're passionate about.
For me, the self-proclaimed resident R&B tastemaker, it's the simple things. Things that spark a feeling of nostalgia, curiosity, and joy. Things that feel good when you use them, things that become a natural extension or application of what you're doing.
Things like these spark my creativity because they don't get in the way. They let me accomplish a task, satisfy my brain, or just keep me comfortable. Let's take a look at my list, and if you have any similar favourites, shout them out to us on social.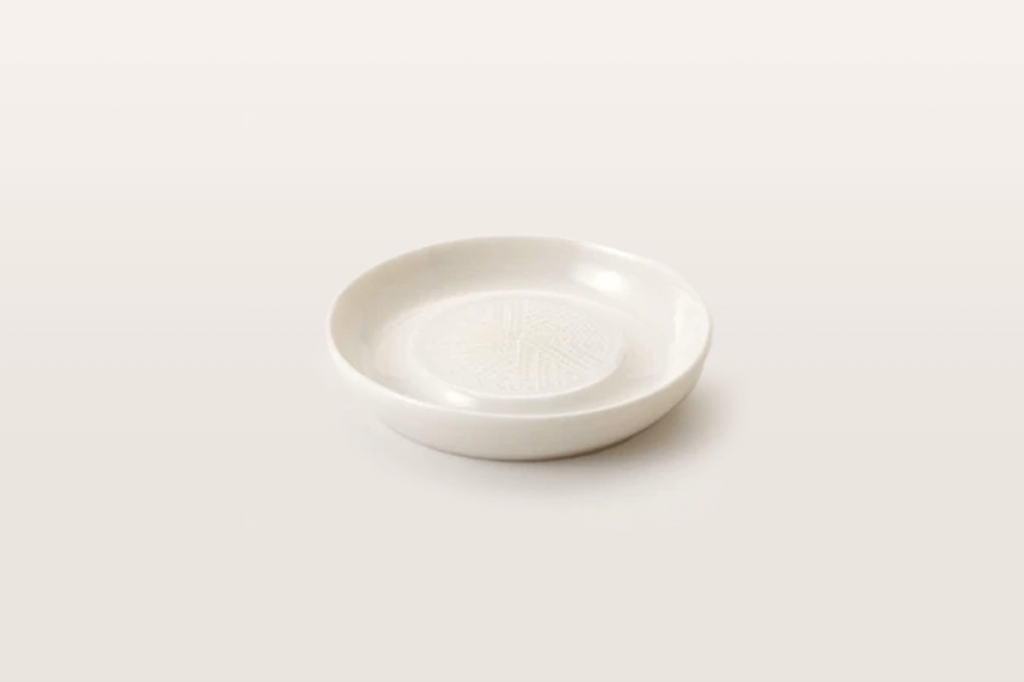 What is this exactly? It's a small ceramic grater for breaking down anything in the kitchen, whether that be garlic, ginger, carrot, or apple for example. It's a circular tool that sits and grips to your kitchen counter, thanks to the rubber ring on the bottom, and grinds down your ingredient of choice. It looks great in your kitchen, and works flawlessly.
Now, could you do the same thing with a box grater, a knife, or even (if you're going to use anything else, this would be my pick) a microplane? Of course, but there's a sense of wonder and satisfaction that this provides that is honestly unmatched. It feels so satisfying and fun to grind things down on the ceramic blades in the centre while watching your ingredient collect around the indented moat that surrounds them. This is also the easiest thing to clean – just rinse it under water and it's good to go.
This is something that's so simple and straightforward that it seems silly, but the efficiency of using it, it's natural ability to quickly break down ingredients, and the speed at which you can clean it is an all-around win from me.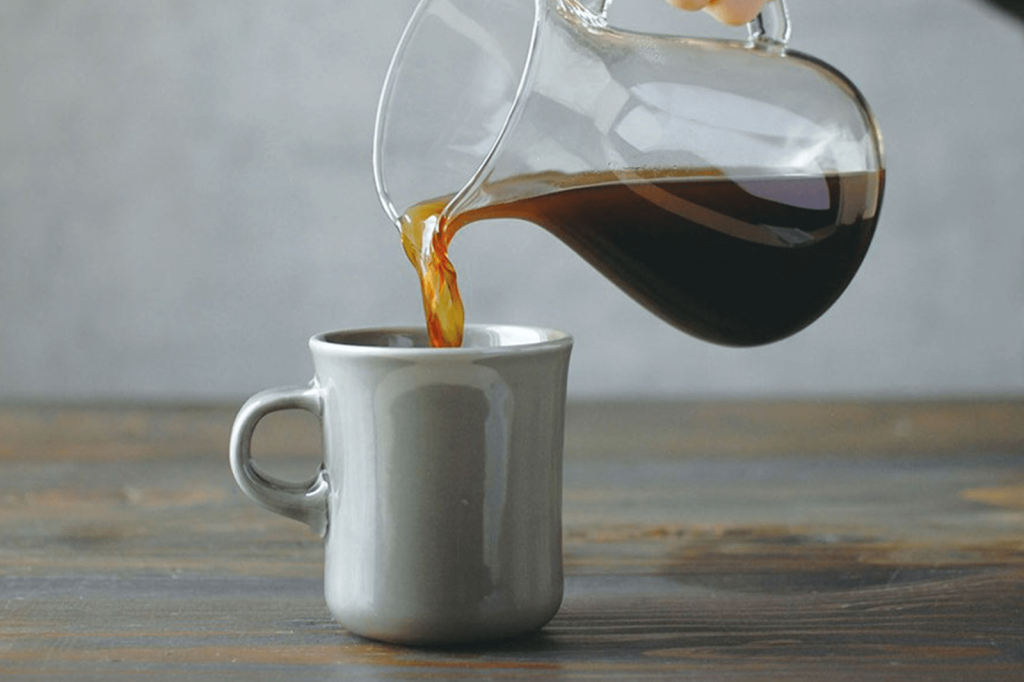 Look at all the mugs you've collected over the years; which one is your favourite? Can you say why it's your favourite? For me, it's all about the feel. How the mug feels in your hand when you pick it up, how many fingers fit through the handle, how the rim sits on your lips when you take a sip, and how the shape of the mug rests in your opposite hand. You should enjoy your mug because of how it looks and what it reminds you of, but also how it feels. It should let you drink your beverage without getting in the way, and without feeling awkward.
These porcelain mugs by Kinto are some of my favourites. They're perfectly made, perfectly balanced, and each detail is well thought out. It fits gracefully into my hand, it doesn't feel like it's going to slip, and the lip has the perfect curve that makes every sip that much more enjoyable.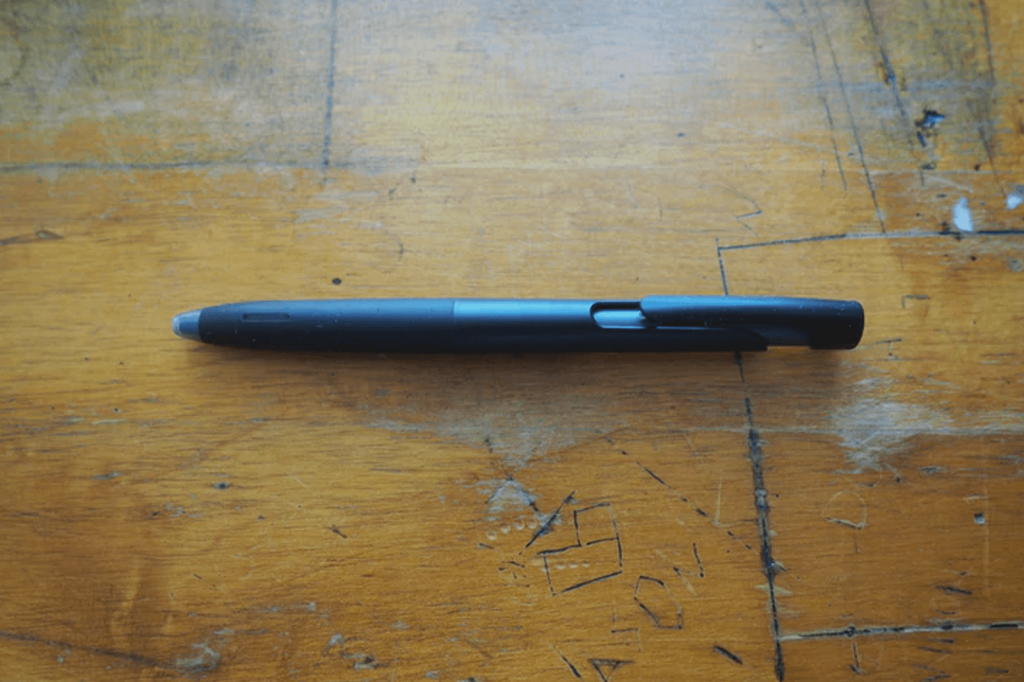 Everyone has a favourite pen, and this is one of mine. Now the Muji Gel Ink 0.38 is a favourite as well, and it's hard to beat, but the only thing it lacks in my opinion is the feeling of it in your hand. The pen has a basic casing that feels good, but it doesn't necessarily feel comfortable in the way that other pens do. With the blen those problems are solved. It's comfortable, the ink flows smoothly, the click is satisfying, and it's light in the hand. Honestly it's a perfect pen.
This is a great example of something that just doesn't get in your way. You don't need to worry about the ink, you don't need to worry about the ballpoint skipping and not creating a smooth line, you don't need to go searching for another pen in a drawer. You have an implement that works when you need it, how you need it, and impresses you the entire way. Use one of these for even a minute to see how effortlessly they glide across the paper.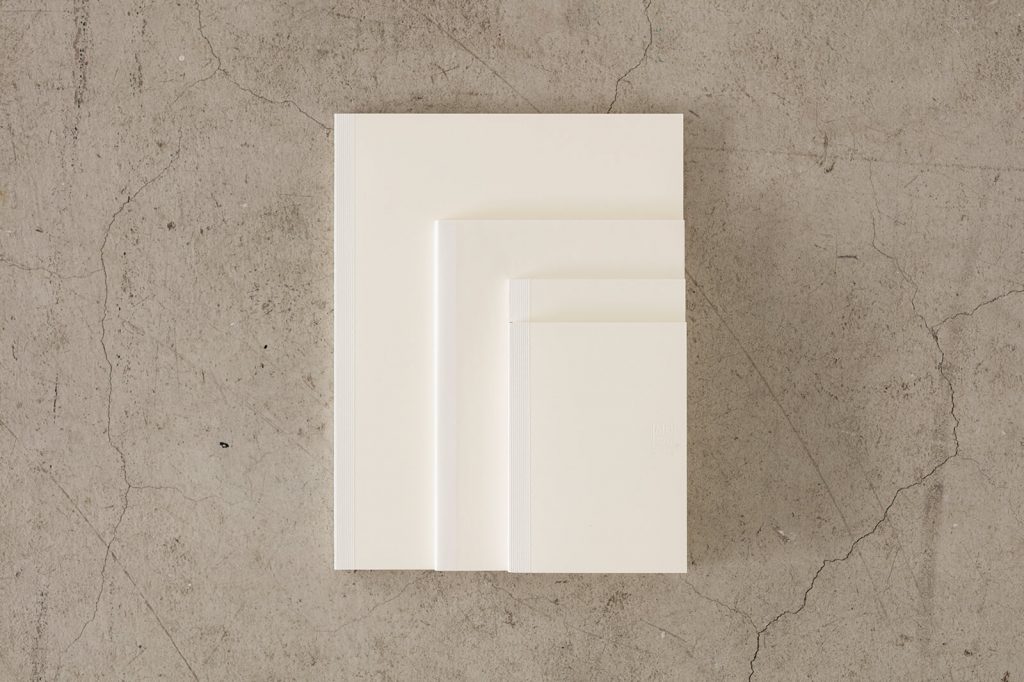 Speaking of paper, let's talk about notebooks. There's something ineffable about writing on paper that's so soft and inviting. Paper that yearns to be used to record your thoughts, ideas, motivations, dreams, or recipes. This isn't the cheap paper you used to cram into duotangs. This is of the highest quality, while being as simple and as intrusive as possible. Books without covers, without bells and whistles, without distractions. Books that are simply meant to be used however you choose to use them. Books that lay flat, books that keep your place, pages that don't bleed. These notebooks are a pure experience, they redefine what it feels like to write in a notebook – as pretentious as that sounds. You just have to use one to believe.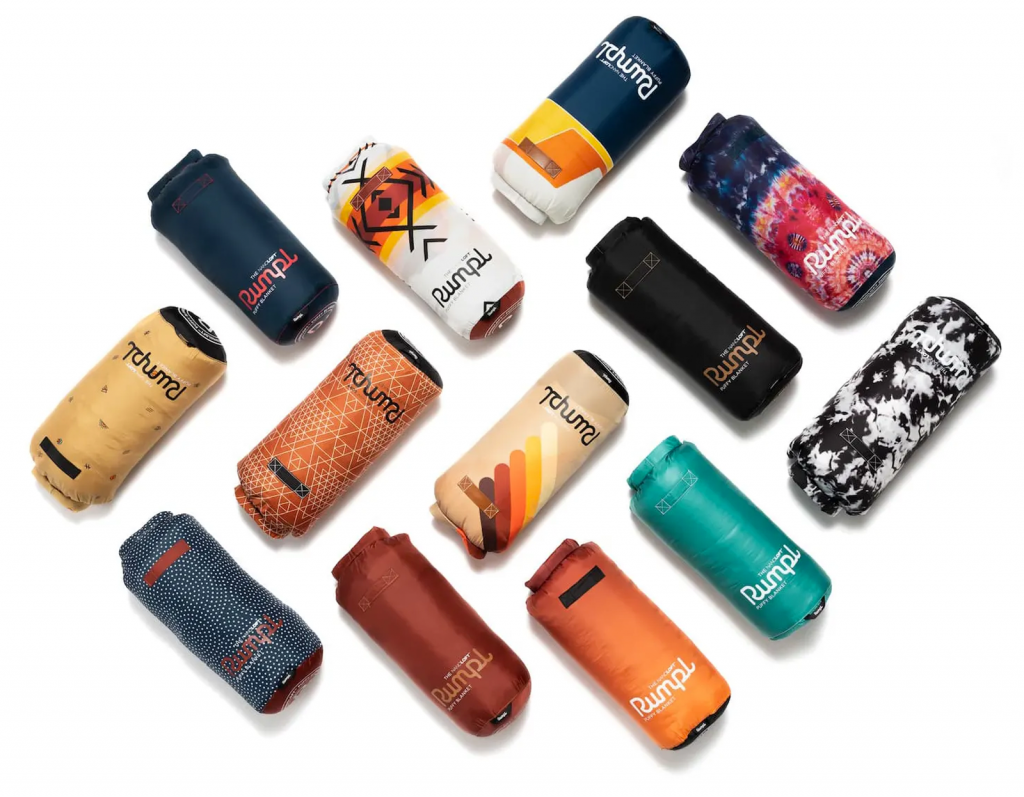 This is a pure nostalgia pick from me, a pick that I didn't know I would truly love when I bought it. At the time, I just wanted something versatile and warm, something I could take on a picnic, but would also be comfortable on the couch or wrapped around me while working.
This ended up being so much more than that. A blanket that I could use anywhere without getting dirty, but also could throw in the wash or simply wipe down without a second thought. A blanket that wouldn't get laden with cat hair because it simply shakes right off. A blanket that's extremely warm and cozy but isn't so thick that it can't be packed right up into a small bag to be taken on the go. This thing just does it all.
The thing I didn't expect however, was this feeling of nostalgia whenever I use it. It reminds me of being a kid, using random sleeping bags at sleepovers or at the lake. It's a small thing but I feel like it makes a big impact.
There are five things that really scratch that itch in my soul for a quality and satisfying user experience. Things that have had their details analyzed and refined.
For me though, this type of experience also extends to places – restaurants for example. Finding a restaurant that truly understands the impact of a holistic experience is really the foundation of so many core memories I have with trips and vacations. Exploring neighbourhoods, spending so much time on Google Maps and local blogs to find the best hole-in-the-wall spots is one of my favourite things to do.
Here's a few of my favourites from across Western Canada.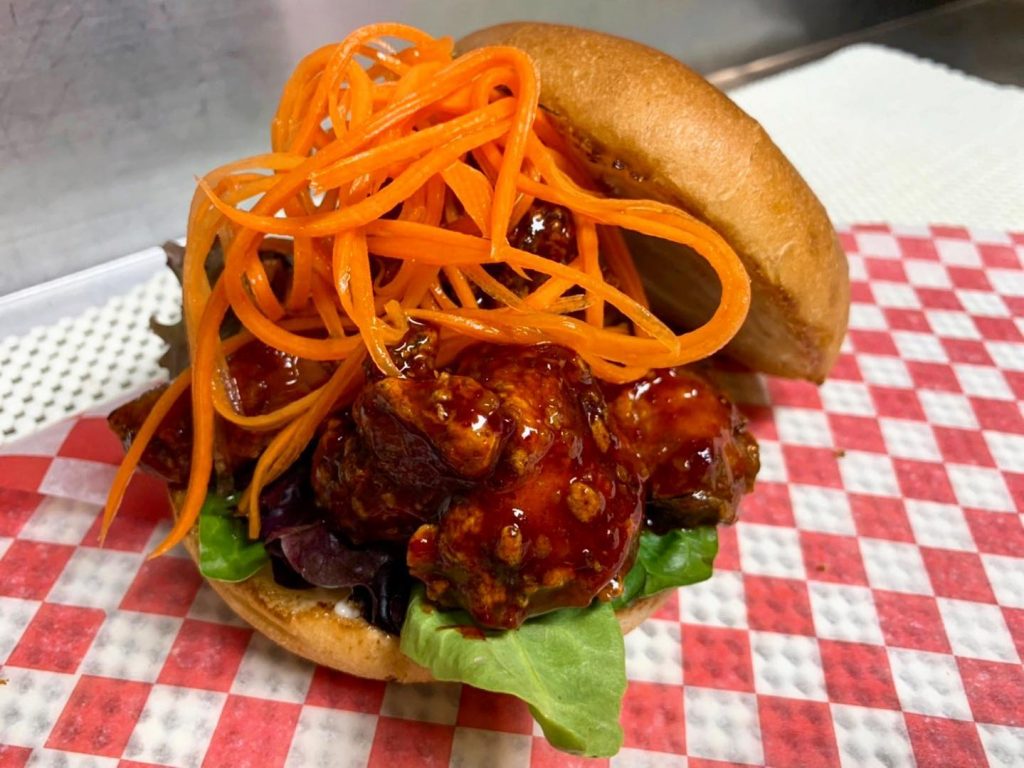 I Had to start off with a local spot because JapaShack really covers the basics. Unique sandwiches with fantastic sides – fries with your choice of crispy fried meat on top. That should probably be enough to get you through the door right there, let's be honest.
It's the little things though that make JapaShack a favourite for me. It's packing your fries in vented cardboard boxes so that they stay crispy in transit. It's packing your sandwiches wrapped in paper so the heat from the meat steams the brioche bun. It's the balance of bun, meat, sauce, and veggie toppings. It's the variety in sauces and meats to find the perfect balance of texture that you prefer.
For me, it's either the sweet and spicy Volcano Burger or the comforting and crunchy Katsu Burger with the Karaage fries. Perfect balances of flavour and variety of texture. Not to mention the prices are on point. Grabbing a sandwich and sitting out on Broadway to eat amongst the city as the cars go by is a dream scenario for me.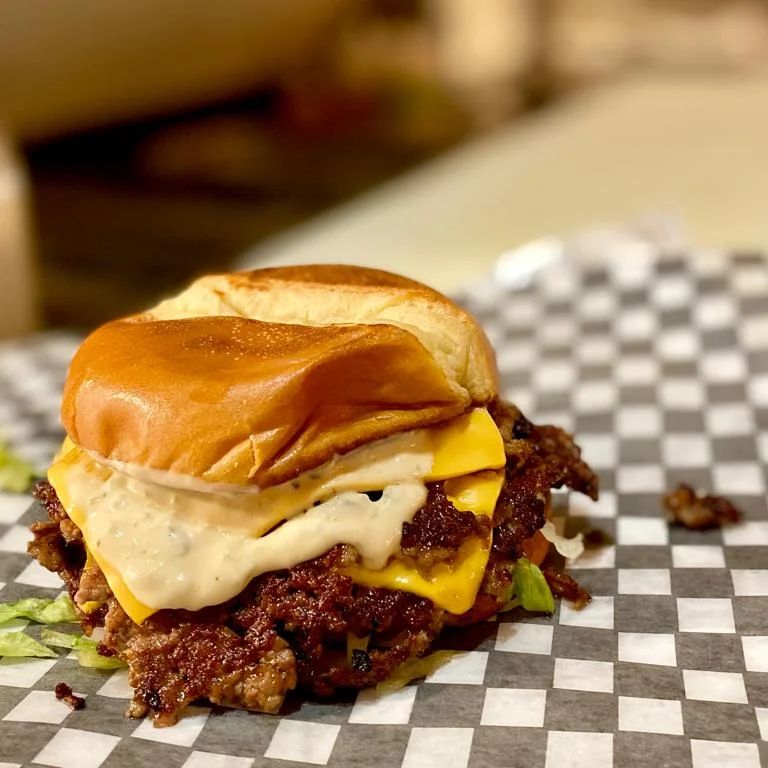 Between 2 Buns has been almost a religious experience for me. My partner and I had been recommended this place by a few Vancouver locals, but we actually had our eye on another spot in the area. On our walk back to Gastown we decided to stop by and just check out the spot. A small hole-in-the-wall burger joint specialising in smash burgers and cold beers. We were able to jump past a group of 6 to get in and sit up at the bar. The owner took our order as we walked in and we took our seats.
The place was simple, only a few tables, sparsely decorated but in the best way. The main focus of the room was the kitchen – the flat top with sizzling burgers. The lighting was low, but created a big city, small restaurant type of atmosphere. But for me, the music was what made this a true experience. The 90s hip-hop that was rocking through the speakers made everyone move to the same rhythm, it created a level of intimacy and collective ambiance that accentuated every piece. The way the stools felt as we sat, the height of the counter that we leaned on, the presentation of the burgers and fries in their old school baskets, the cold beer poured into frosty mugs. Everything in that moment was perfect. The food was divine, the staff were welcoming and friendly, the atmosphere was intoxicating, and it left me wanting more in every single way.
This restaurant to me is exactly what you want; they do one thing but they do it perfectly. It's not about having the largest menu, it's not about having all these choices, it's not about shaving truffles onto everything, it's about curating an experience for your customers. It's about the interactions, the lighting, the music, the seating, the simplicity. That first experience with B2B will be something I will always remember.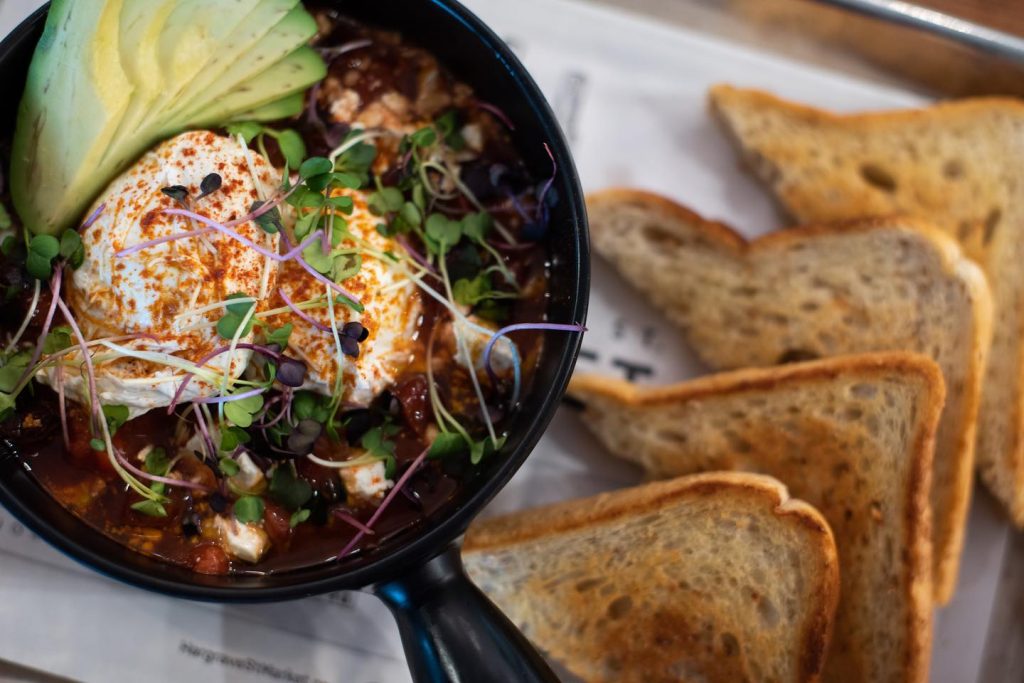 I've historically spent quite a bit of time in Winnipeg as I have a lot of family there, and there's always two brunch spots I have to hit while I'm there: Clementine and Miss Browns. Clementine has given me some of the best breakfasts I've ever had – truly – but Miss Browns  just fills that experiential vibe that I love. A clean and beautiful space that offers their menu as a sit-down, or to-go experience. 
It's quick, it's delicious, it's friendly, and it reminds you that breakfast can be all of these things while still being portable and fast. Everytime I eat here I'm reminded how we're really missing that "to-go" breakfast spot in Saskatoon. Popping in, ordering something delicious that doesn't have to just be a breakfast sandwich, watching them make it for you, and then taking it to go while you're walking to work. It's the breakfast dream. Another reminder that you don't have to do anything complicated, you just have to do it right.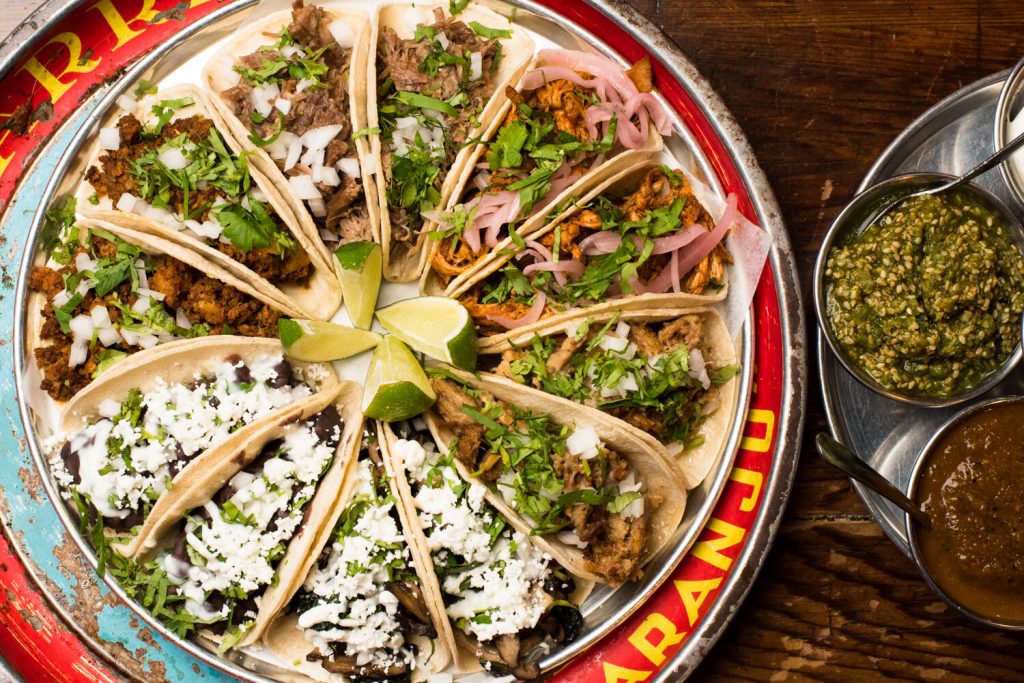 It's hard to put into words how much I love this restaurant. This is a place that made me fall in love with food, which I know is a big statement. The atmosphere, the liveliness, the music, the staff, the variety, the food. I can't possibly gas this restaurant up more.
Filling a family-style table up with your friends, eating trays of various tacos with handcrafted cocktails among groups of lively people vibing to the same perfected soundtrack, while the staff curate an entire night for you – it's an absolute dream.
It can be tough to find restaurants that truly care about Mexican cuisine without falling back on appropriated sugar skulls and tequila happy hours. Native Tongues provides quality food and an unforgettable experience while being authentic to themselves and to the culture they pull their inspiration from. There has not been a singular time that I've passed through Calgary and not stopped at Native Tongues for at least a few tacos. If you're in a rush, they have a to-go order window that faces the street so you can get lunch or dinner while you're on the run. Native Tongues is what I aspire all my favourite restaurants to be – authentically themselves.
There you have it – a random list of some places and things that I hold dear to my heart. Experiences that I find and curate during my everyday life that help inspire my creativity and push the boundaries of who and what I choose to support.
In a time where every dollar truly matters, it's incredibly fulfilling to find and support those who deeply care about the product they're creating or serving – and not just the product, but the entire experience that surrounds it. The atmosphere, the usability, the perception, and the authenticity. It's what we at Rock & Bloom strive to do with everything we create. Are we making something that aligns with the goals of our clients? Are we making this usable for everyone? Are we being as inclusive as we possibly can ? Are we focusing on what we're good at, and not trying to be something we're not?
It's one thing to just ask yourselves those questions, but it's another to fully embrace them and apply them in your everyday life. Hopefully some of these suggestions and thoughts about everyday objects and places can inspire you to question and find the special things in your life that you can draw true inspiration and meaning from.