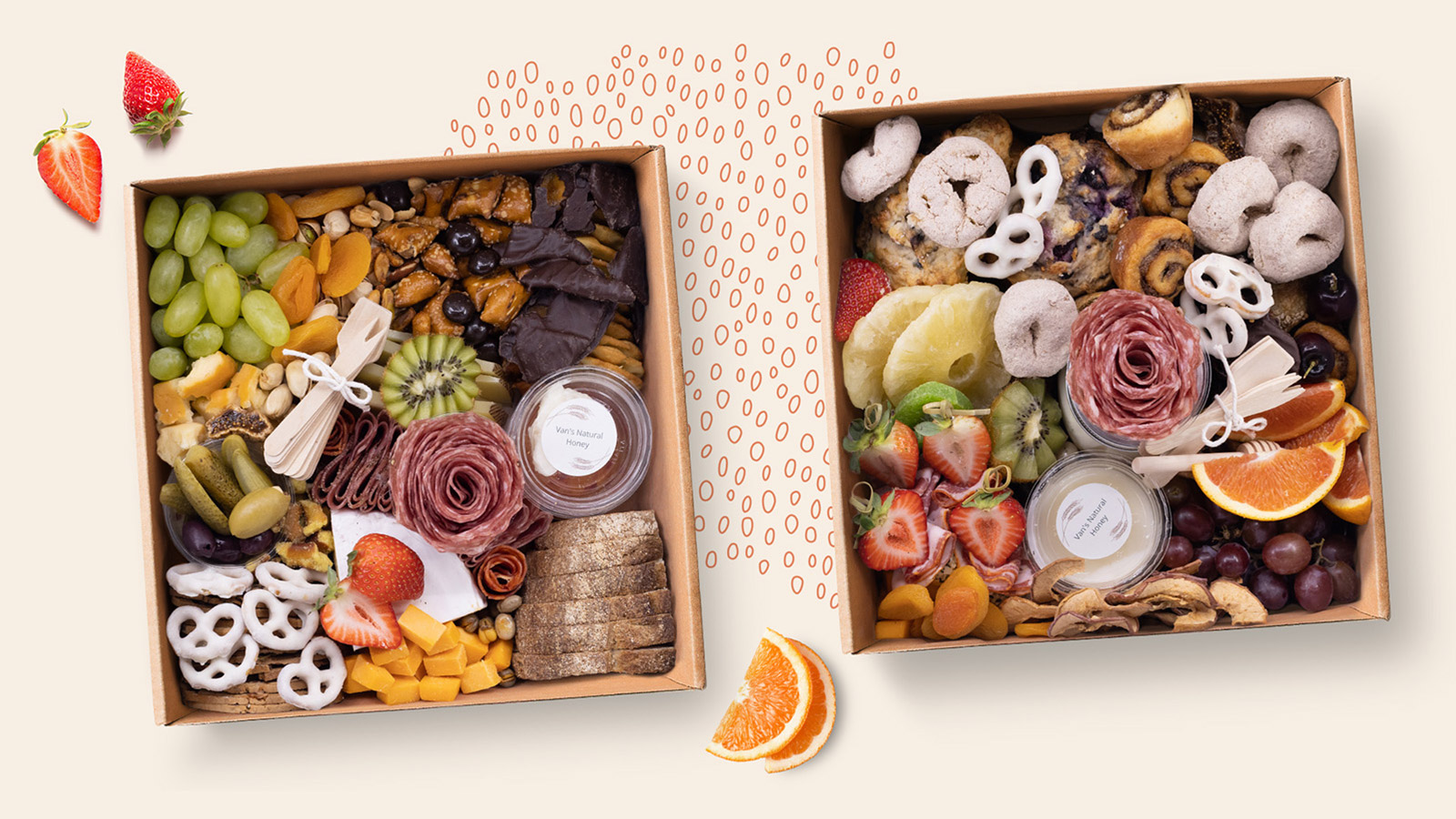 The Prairie Grazer creates professionally crafted charcuterie with their own special emphasis on showcasing local products & ingredients.
They are reinventing what it means to gather and share a meal. Whether a corporate event or cozy get-together, food brings people together.
Through their marketplace, The Prairie Grazer supports local businesses in our community, featuring items that are typically included in the grazing boxes. Beyond this, they offer workshops and events, bringing people together to gather, graze, and build connections.
For their business to really succeed, they needed a strong website and seamless ordering process to match their unique and convenient business model. They also wanted to highlight the fresh, fun and vibrant energy of their brand, while maintaining their dedication to quality and community.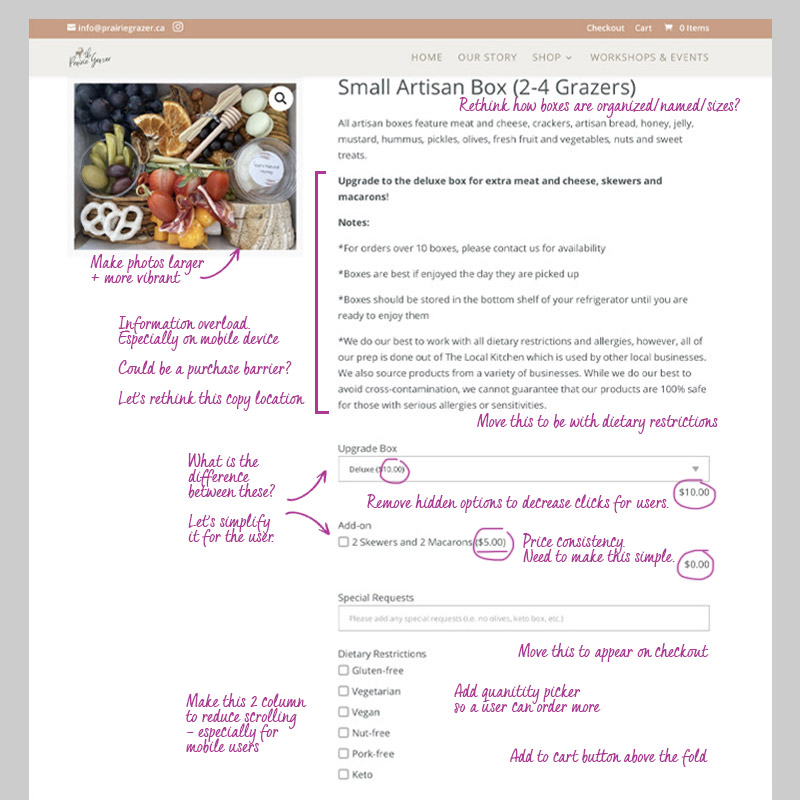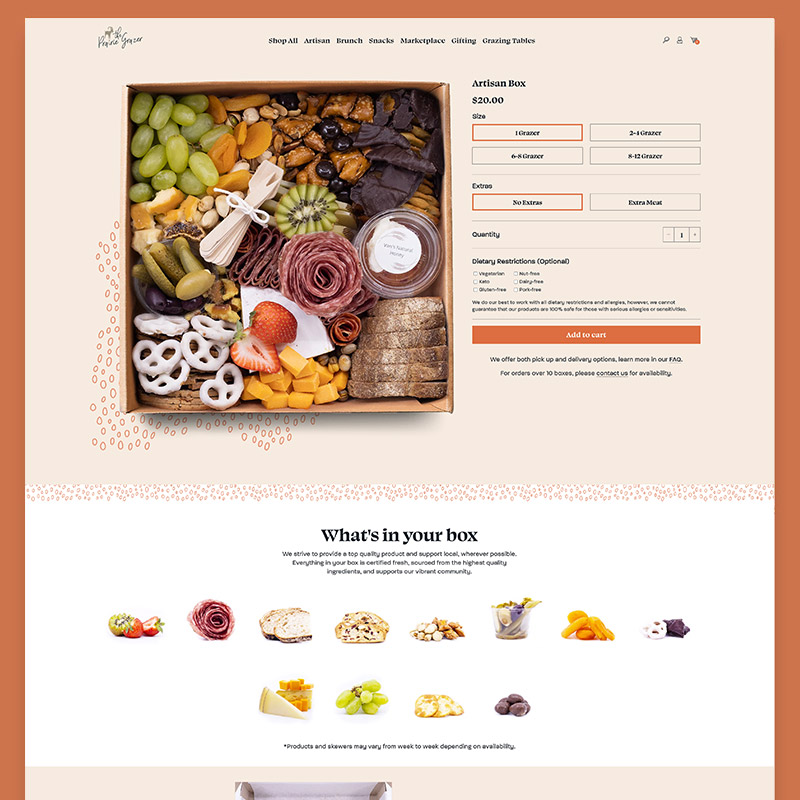 The Problem
The Prairie Grazer's ordering process was the biggest point of friction for both customers and the business. We needed to create a strong customer transaction workflow that was user-friendly and eliminated any challenges on both sides. A rebuild of the site challenged us to restructure the main navigation and create an intuitive user experience from browsing to ordering. We also wanted to highlight the energy of Prairie Grazer's unique brand by creating warm and eye-catching designs paired with fun and witty content. Addressing these challenges would give The Prairie Grazer the support they needed to continue to lead the charge as Saskatoon's go-to grazing specialists.
The Scope
The project scope included:
Creating an appropriate plan for a streamlined workflow for customers
Defining brand goals, messaging and target audiences
Continuing to keep community part of the brand story
Building a new, stronger and more scalable website
Understanding the goals of the business in the long-term and planning accordingly
Ensuring long-term support
The Process
Creating a strong and unified brand strategy involved completing a brand workshop, building the site architecture, creating a streamlined customer workflow, conducting market and competitor research, developing a brand voice and key messaging, copy ideation, building a product hierarchy, and coming up with a shot list for photography.
Our process for developing a strong brand includes in-depth research and strong communication with the client, so that we can carve out a path for success. It takes a lot of listening and empathy to reimagine a brand, and create something that resonates with the company and the marketplace.
At the core of that fundamental work is key messaging. Starting the process with a strong strategy allowed us to collaborate easily and begin building out the rest of the brand.
One of The Prairie Grazer's goals was to elevate their brand, while staying true to their identity. We wanted to really showcase who they are, as well as their connection to the community, and we were able to accomplish that through strong messaging, as well as polished and attractive design.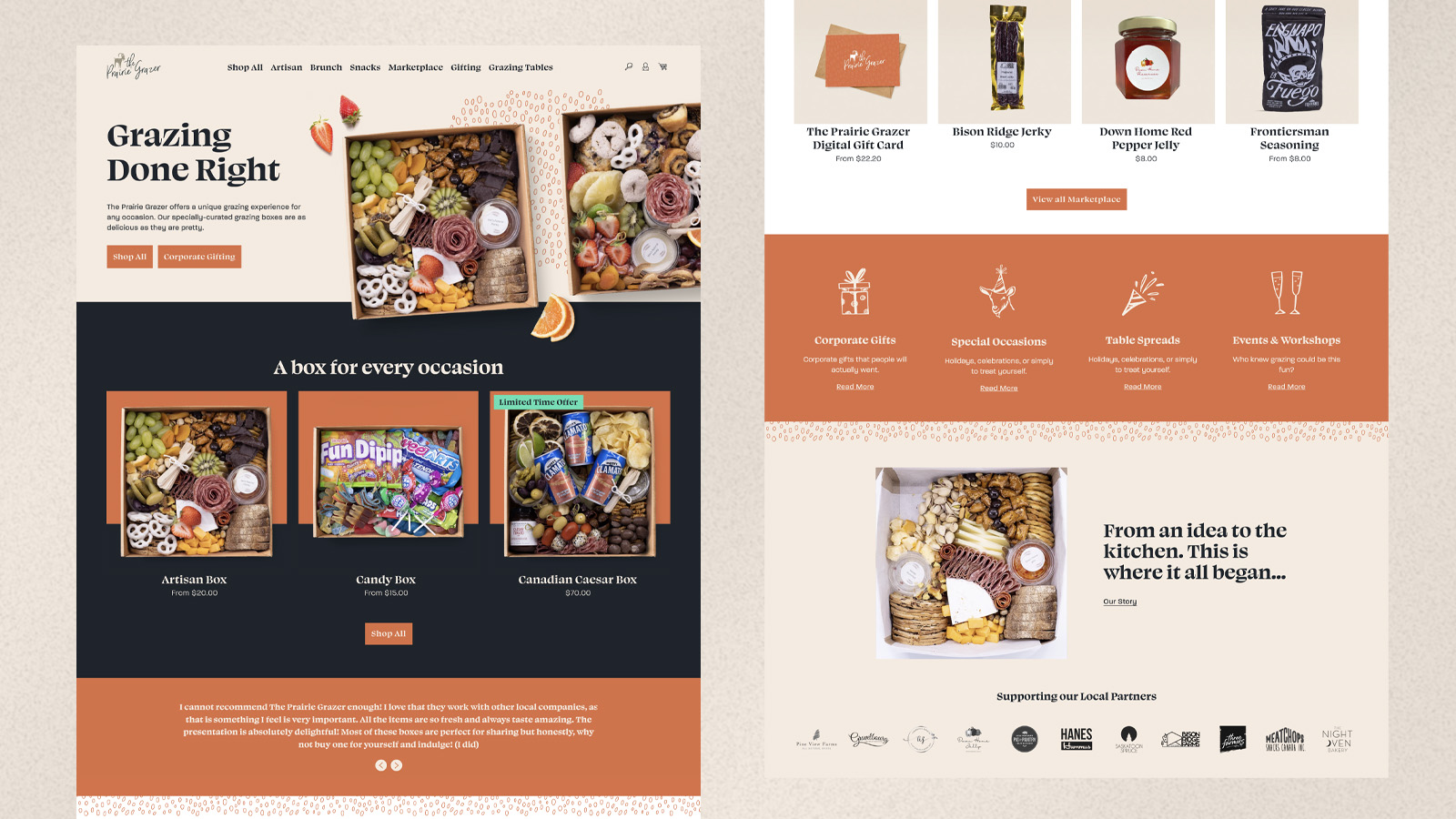 We chose colours that would balance and compliment the food items that they put in their grazing boxes. We really wanted to bring out the warm and fuzzy feeling you get while enjoying one of the boxes. The colour and tone also matches the warm personality of the owners.
It was important to bring a lot of life to this brand and capture their fun and enjoyable essence. We took the goat from their logo and added it everywhere. Animated icons elevate the site even further. The style of the pattern and icons have a handcrafted vibe to them much like their handcrafted boxes – everything's made with love.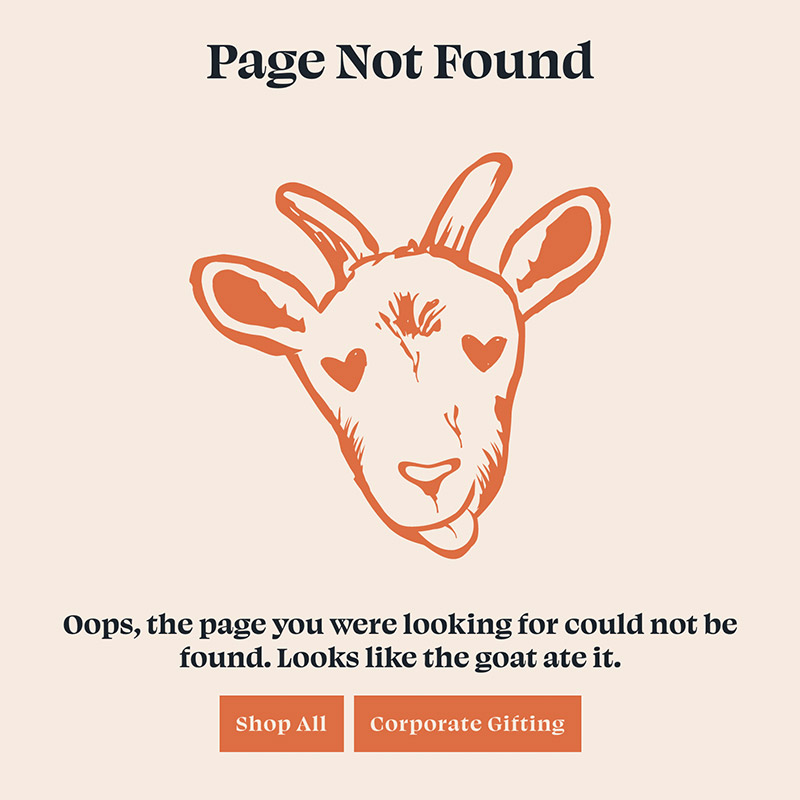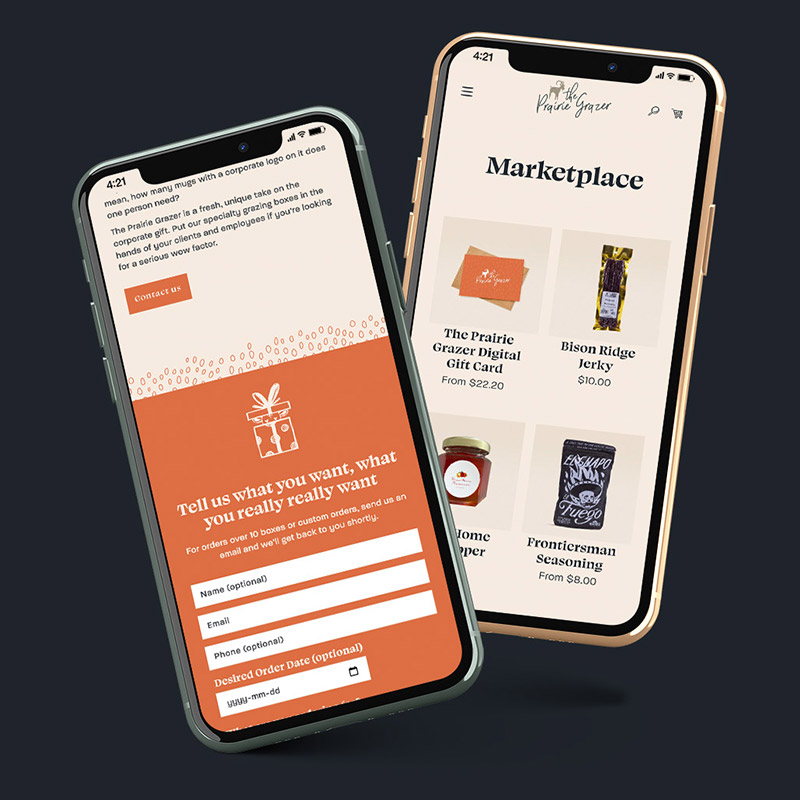 We injected personality and life into this brand. Warmth and energy with just the right amount of quirk— cue the party goat.

– Valerie, Sr. Designer
Photography and site building
High quality photos make all the difference. Our goal with The Prairie Grazer's website was to show their story, while capturing the love and dedication that goes into creating each grazing box. We made the sole focus of the photography the boxes, highlighting the value and quality of their product. Having professional photos on the website creates a clean and attractive look that captures your attention.
We used stop motion to help customers visualize what goes into their boxes. It's helpful, but also mesmerizing and attractive.
We created the "what's in your box" section on the product pages to showcase individual items. This feature shows the depth of what you are getting and allows customers to fully experience all that goes into creating their grazing box.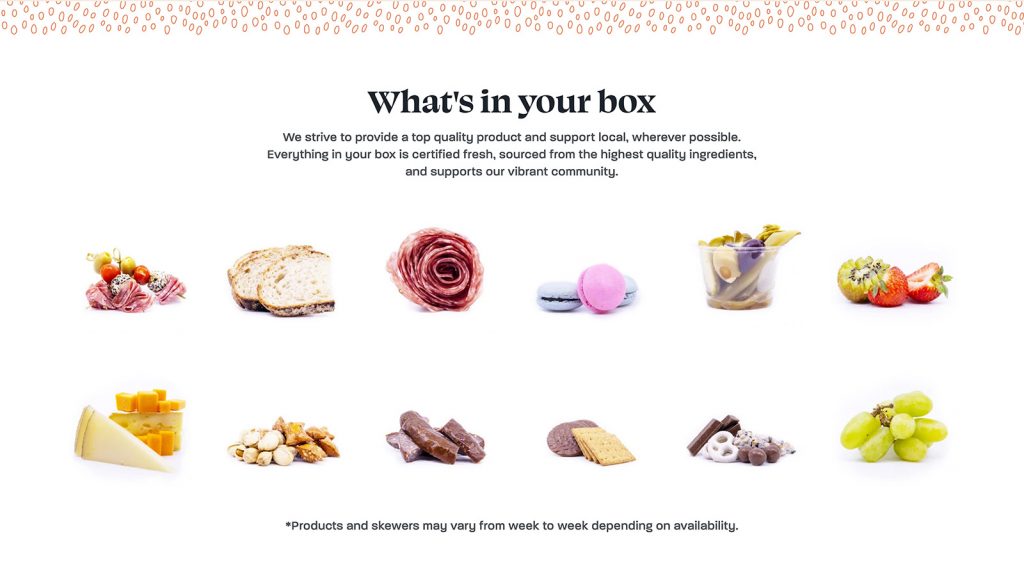 For the marketplace, we made sure that the items were visually different from the boxes to create a better experience for the user and reduce any barriers to purchase.
One of the biggest issues for The Prairie Grazer was their complicated ordering process. We spent a lot of time making sure the ordering process was as smooth and seamless as possible. We made adding extras easy for the consumer, which is also a huge win for the business, as it increases sales.
From beginning to end, the process remained collaborative. We worked closely with The Prairie Grazer to create something that felt authentic and honest. Bringing the content, design, and photography together, we created a unified brand that stands out. By creating a streamlined ordering process, we eliminated any potential pain points for new and returning customers.
The Prairie Grazer came to us in need of a new website that was both functional and appealing. We loved working with them to come up with something that is reflective of their unique brand, while also helping their customers have a positive experience every time they visit.
"Working with Rock & Bloom was an absolute pleasure from start to finish. We appreciated their attention to detail and how the whole team worked tirelessly to understand our brand and the issues we were currently facing. Throughout the process, the R&B team kept us informed and updated us as the process unfolded, allowing us to provide feedback and troubleshoot any possible issues. As a result, we have a beautiful website that is extremely user-friendly. I think we even understand our brand more than we did before we engaged with Rock & Bloom.
We can't say enough good things about the whole team. We are absolutely thrilled with the final product and can't wait to continue to work with R&B in the future."
-Cristie, The Prairie Grazer
Customers can now connect with The Prairie Grazer in a convenient and frictionless way. What's more, they can feel the authenticity and community influence that The Prairie Grazer exudes. From unforgettable workshops and events to stunning and delicious grazing boxes made with local ingredients, The Prairie Grazer is able to share their love of food and community, by creating a meaningful connection with their customers.