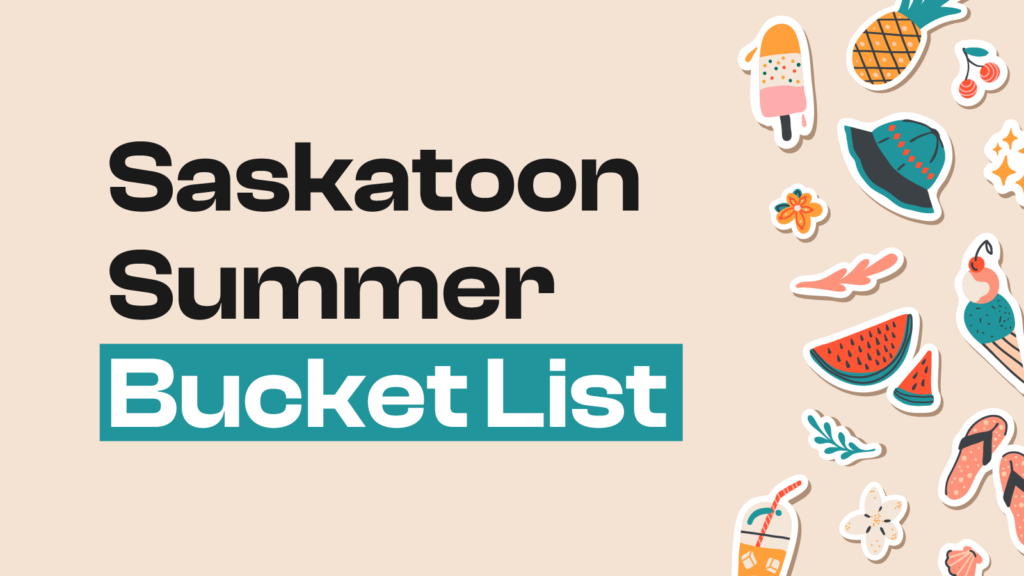 Like the first tiny, green buds on our trees after a long and frigid winter, the City of Saskatoon truly comes alive during the summer months – and it's beautiful.
The community is bustling, the patios are in full swing, and the ice cream dripping down the side of your hand is oh so sweet.
Come along as we wander through the classic summer must-dos, the new experiences, the better-with-friends outings, and the make-you-feel-like-a-kid-again activities.
Here's your Saskatoon Summer Bucket List: 2022 Edition.
Saskatchewan Jazz Festival
This year marks the 35th anniversary of the adored summertime festival. What better way to kick off the summer than with eight straight days of music and fun. Check out the schedule and snag your tickets early!
Picnic in the park
Nothing is cuter than a picnic in the park – and Saskatoon's got 200 of 'em to choose from. Grab your checkered blanket and head to Boffins Gardens at Innovation Place. A picturesque setting, home to a large pond and plenty of flowers.
Prefer something a little fancier? Try out Boho Picnic YXE for an unforgettable picnic experience. These instagram-worthy setups are perfect for a special occasion or surprise party.
Make a summer playlist
Your summertime antics would not be complete without an upbeat playlist to serve as your soundtrack. Take some time to curate the perfect sound yourself, or start a collaborative playlist with your work colleagues or best friends. Everyone chooses 5 songs that remind them of summer – a fun way to get some new tunes.
Go on a coffee crawl
This has been on my list for a long time, but this is the year I'm finally making it happen. Organize a coffee crawl, by yourself or with friends, and experience all of the amazing local cafes that make our city special. Choose a handful of cafes you'd like to try – old favourites, classic hangs, and exciting new spots – and visit them all! Map out your route starting at one end of the city and making your way across, stopping at all of your chosen spots. This is your opportunity to try as many different menu items as possible, or get the same thing at every place and compare the quality.
Go camping
We're lucky to be surrounded by a plethora of lakes and campsites. Pick your favourite and spend a weekend under the stars. Tenting is my preferred choice of camping, but if you don't like roughing it, a cabin can still provide that rustic outdoor experience – with running water.
Don't want to go too far? Camping still counts even if it's in your own backyard.
Relax with a lazy river float
Take advantage of our beautiful South Saskatchewan River with a lazy river float. Drifting down the river while soaking up the sunshine is the perfect way to relax and recharge. If you're more of an adventurer at heart, try paddle boarding or kayaking.
Volunteer your time
Research volunteer opportunities in your area. Choose something that aligns with your values and that you would find soul-filling. For example, if you love animals the Saskatoon Dog Rescue is always looking for more volunteers. And what better way to spend your time than helping our furry friends find their forever home.
Not an animal person? No problem. Humans need our support too. Try volunteering at Ronald McDonald House Saskatchewan and help families that need it most.
Ditch the city for a Manitou Beach/Watrous day trip
If you're looking for a quick weekend getaway, this is the perfect choice. Manitou Beach is only a short hour and a half drive away, but feels like another world. Swim in the healing mineral lake, visit the quirky vintage shops, stroll through the Little Manitou Art Gallery (and if you're lucky catch a musical performance by a local artist), stop by the Video Stop – Watrous' infamous movie rental store (it's like if Blockbuster still existed, but way better), and finally, finish off the trip with a movie at the drive-in. Popcorn mandatory.
Take your pup swimming
Every year at the end of the summer, before they drain the water, Mayfair Pool hosts a year-end dog swim. It's exactly what it sounds like and so much more. Watch all the dogs jumping in the water excitedly and having the time of their lives (except my dog, who ran away immediately and spent the entire time on the grass as far away from the pool as possible). Your dog will love it (or hate it) but either way it's worth it for the chance to see a corgi in a lifejacket.
Go on a roadside attraction tour
Saskatchewan is home to many roadside attractions (world's largest paper clip anyone?!). Grab a coffee, get the tunes ready, and take a roadtrip to nowhere. As you drive, stop by any roadside attraction you come across and snap a pic for your memories. If you're really into roadside attractions like I am, you can pick up "Larger Than Life", a guide to Saskatchewan's big roadside monuments. My personal fave is the angry combine near Biggar.
Try something new
Maybe some things on this list intimidate you. Or make you feel anxious. Or are things you would never think about doing in this lifetime. But summer is a time of new possibilities. So try something you haven't done before. The best things happen when we step outside of our comfort zone.
Check out the full bucket list below and download it for yourself!