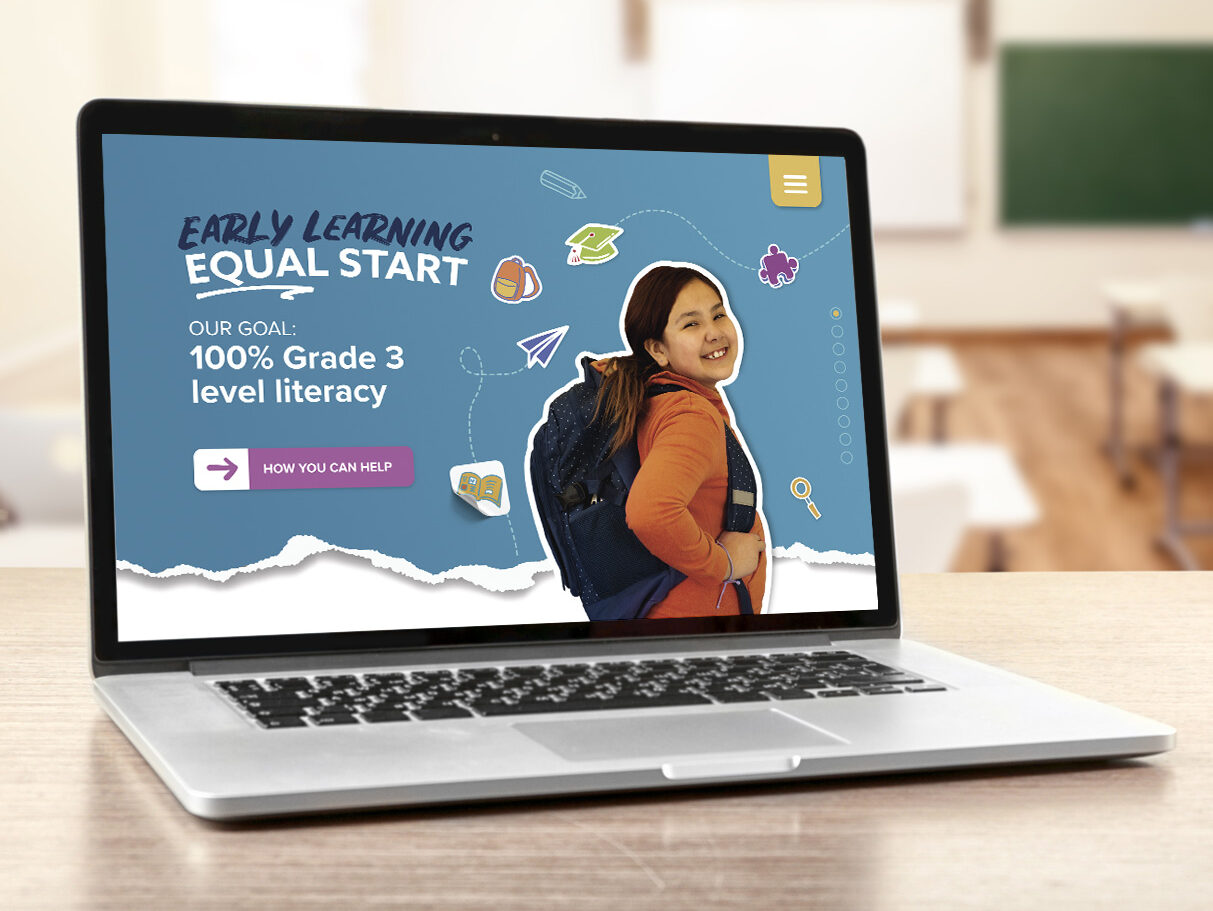 Saskatoon Public Schools Foundation – or SPSF – is an independent charity that works in partnership with Saskatoon Public Schools to support students, schools, and teachers with a focus on literacy, wellness, and innovation.
SPSF recognizes the vital role that public education plays in our society. Through partnerships with local businesses, organizations and individuals, SPSF builds community and offers enriching programs to those who need it most.
SPSF launched Early Learning Equal Start – a $20M campaign aimed at helping students reach their learning potential.

Challenge Accepted
Literacy has a profound impact over a lifetime and begins at an early age. Did you know that a child who can't read at grade level by grade 3 is 4x less likely to graduate than a child who does read proficiently by that time? Furthermore, for every dollar put into preventative programming, society gains $7 back into the economy.
In other words, SPSF's mission is life-changing for Saskatoon students and our economy.
SPSF needed help raising funds above and beyond government funding, giving students the needed support to reach key literacy milestones and the best chance for success. The goal is to help young learners achieve 100% Grade 3 Level Literacy by Grade 3, but in order to do this we needed to launch a big campaign – a $20M campaign to be exact.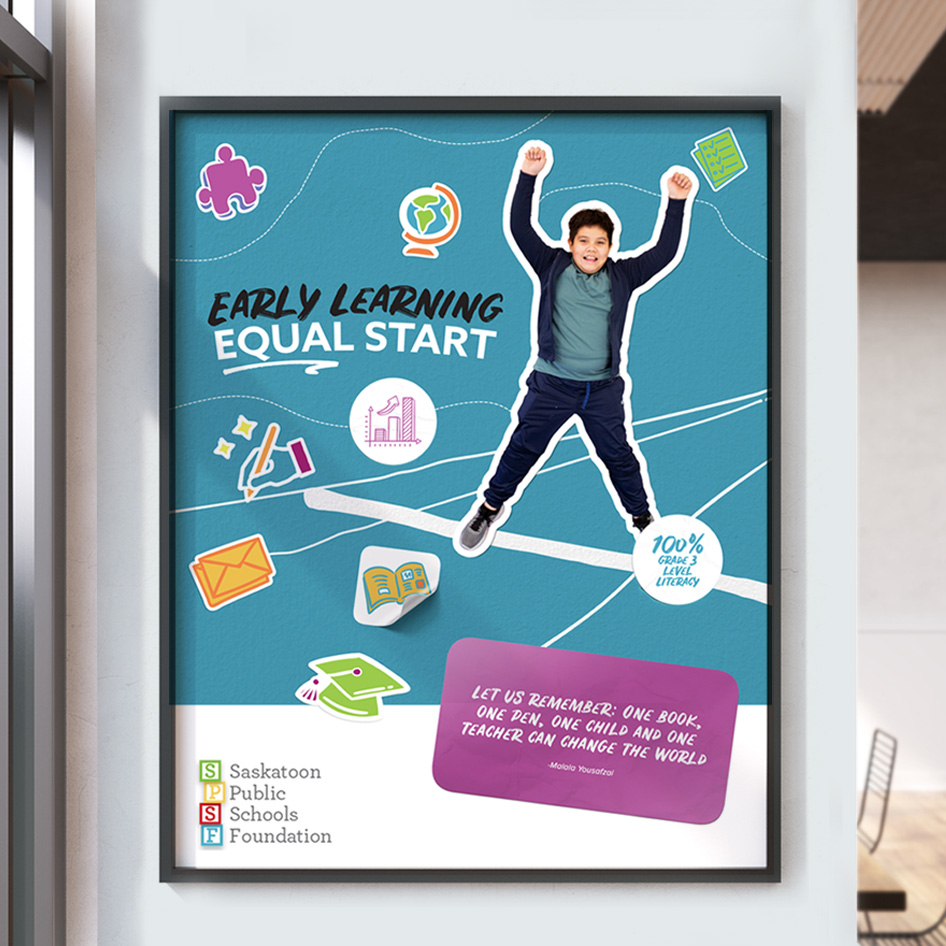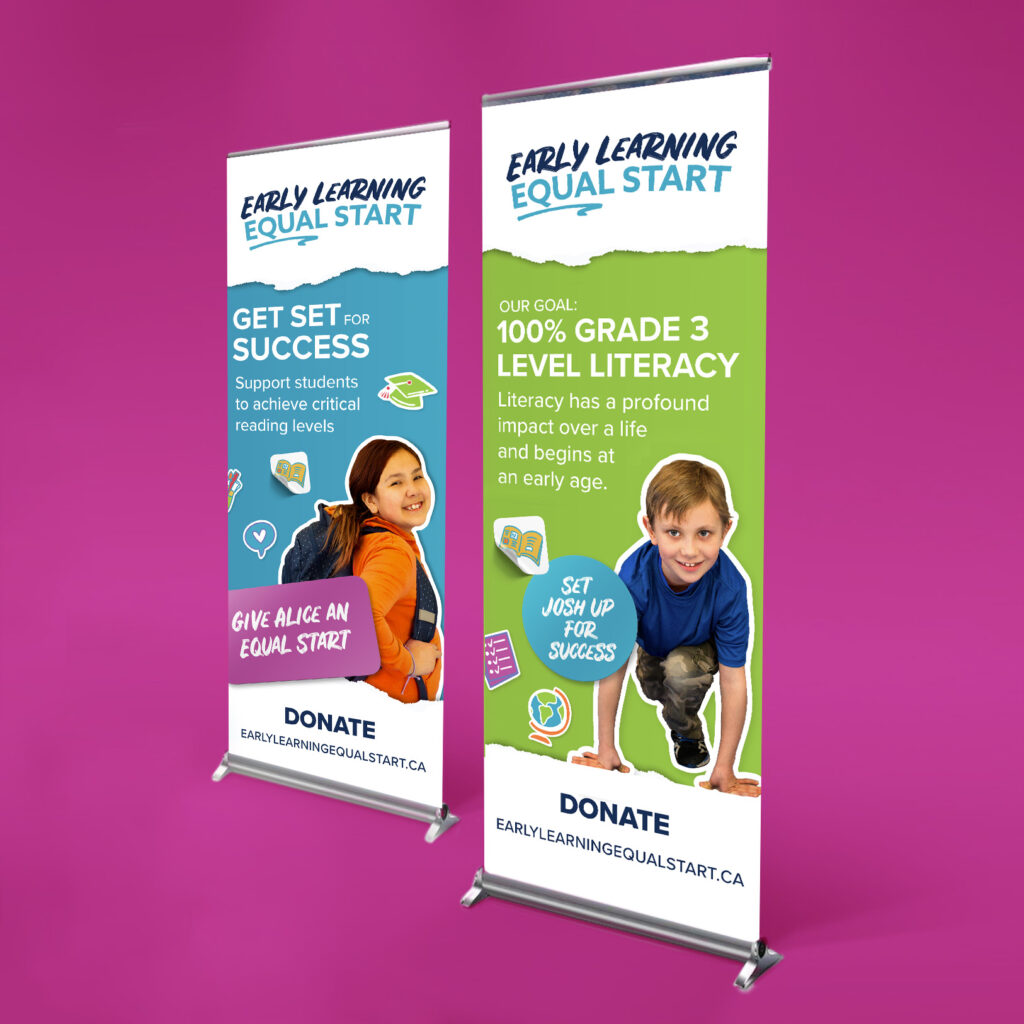 Big Goals Lead to Big Gains
The project goals included:
Develop a campaign (theme and brand) and materials for SPSF to support them in raising $20Million towards the creation of literacy and early learning programming
Create awareness in the community that approximately 3 out of 10 students do not achieve Grade 3 reading proficiency in Grade 3
Build awareness around the SPSF and the work they are doing in the education system
Truly engage the public and get business leaders and active community members supporting early learning and literacy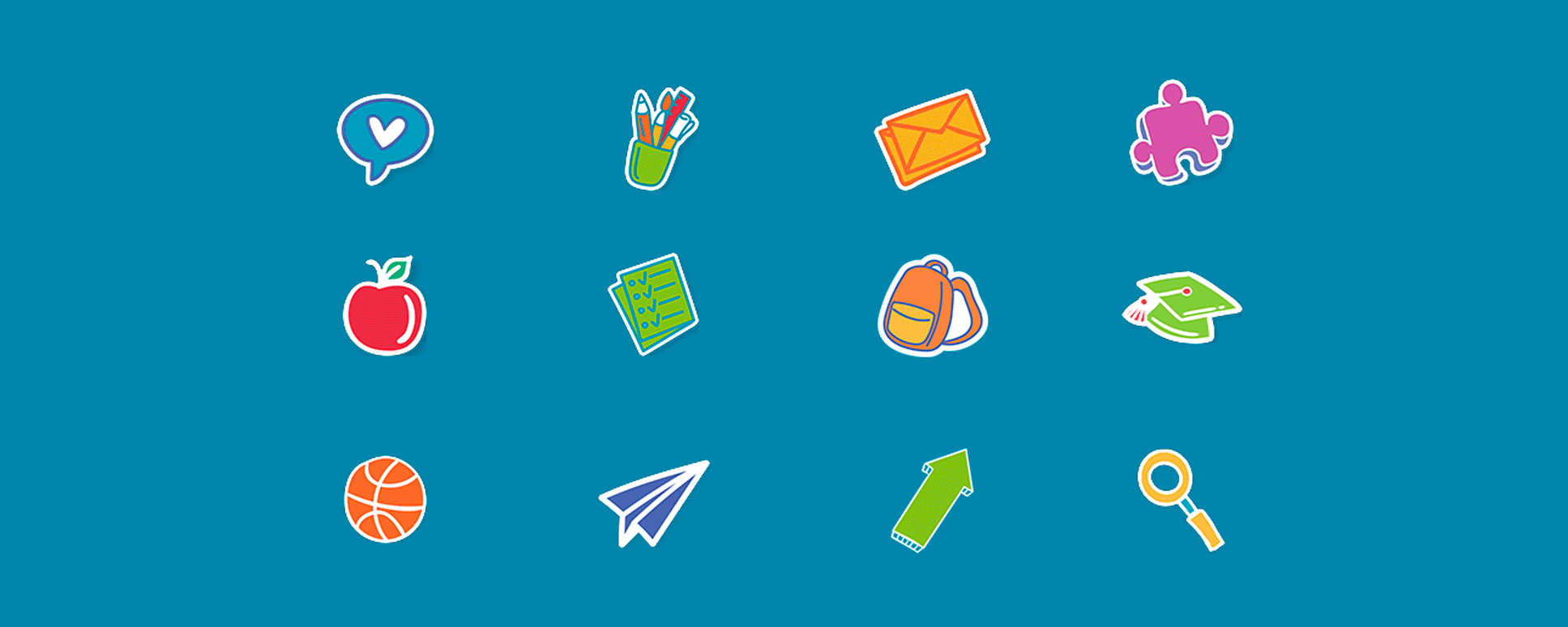 Getting Down to Business
Naming & Full Brand Concept
We worked on this campaign from the ground up, starting with naming and developing a strong brand concept. We needed a name and a brand that was reflective of the organization's mission, and that was accessible, engaging, and compelling.
Featuring bright, playful colours, doodled-style icons, and fonts that mimic handwriting, the brand is fun and youthful, while remaining professional and clean.
Part of the project involved creating a one-page microsite. We wanted the site to be vibrant and engaging. We utilized cool, custom animations, original photography of kids from Saskatoon schools, and video content to educate visitors in a refreshing and interesting way.
Making sure that donations were super simple and accessible was a critical piece of the microsite. We included a case for support, as well as children's success stories to make sure that this campaign had the strongest voice and would provide the most impact.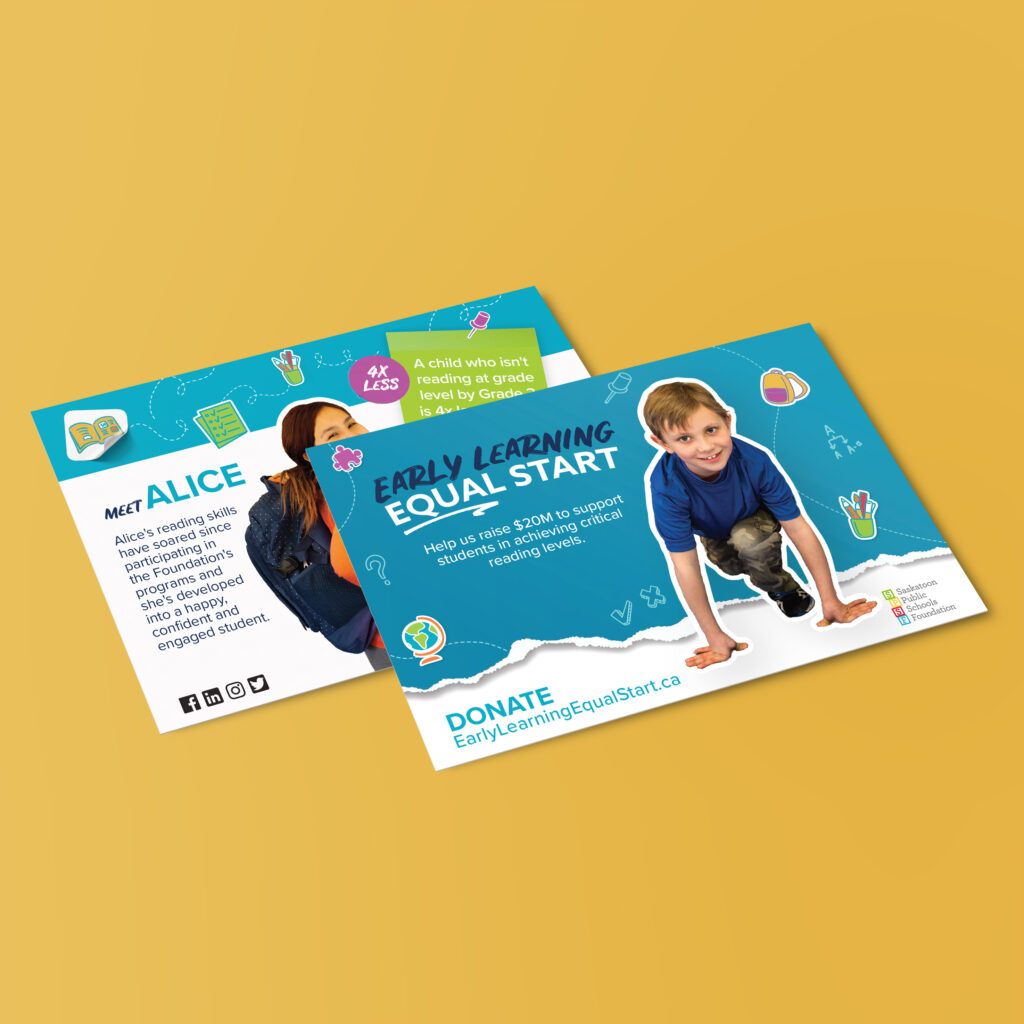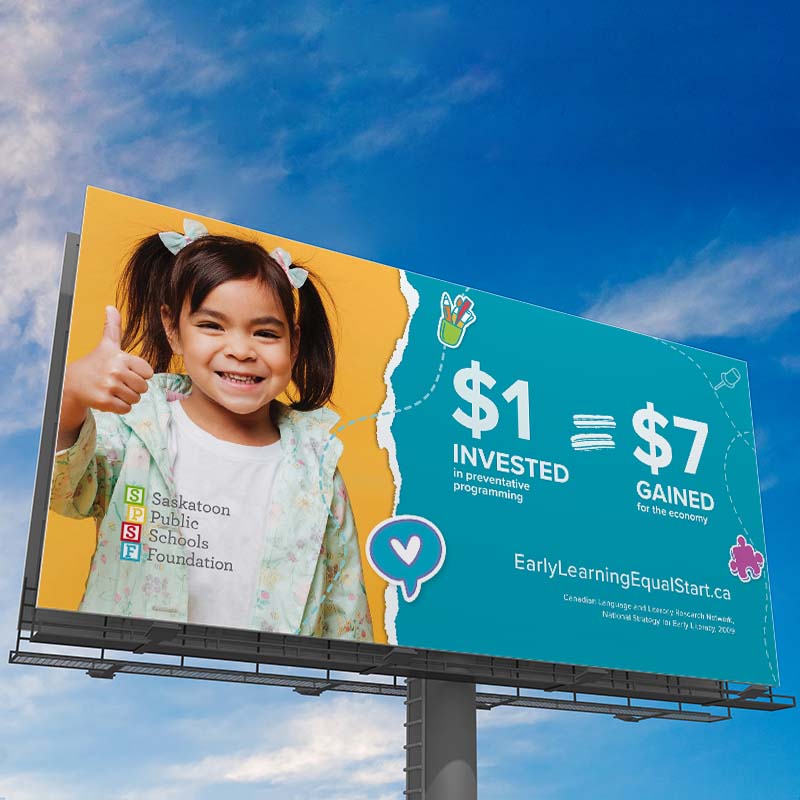 Brand Collateral
We created a lot of brand collateral for this campaign – everything from social media design and postcards to ads and billboards.
Educating the public was a huge goal of this campaign. Many people have never heard of SPSF, nevermind why they should support this organization. We needed to help people understand just why this organization is so important, and how it directly impacts our city.

Celebrating The Wins
Working on this project was the beginning of a long and beautiful partnership with SPSF. We have since collaborated with their team on a number of projects, re-brands, and initiatives – all with the mission of helping Saskatoon students thrive, both in and out of the classroom. We are beyond grateful to have partnered with them on this and many other projects, and look forward to continuing our partnership long into the future.
The team at Rock & Bloom completely blew our expectations out of the water. We received quick turnarounds, constant check-ins, and a sincere passion about our project. We are so thankful to have found such an amazing group of people, and we came away from each exchange happy and satisfied.

—The Team at Saskatoon Public Schools Foundation