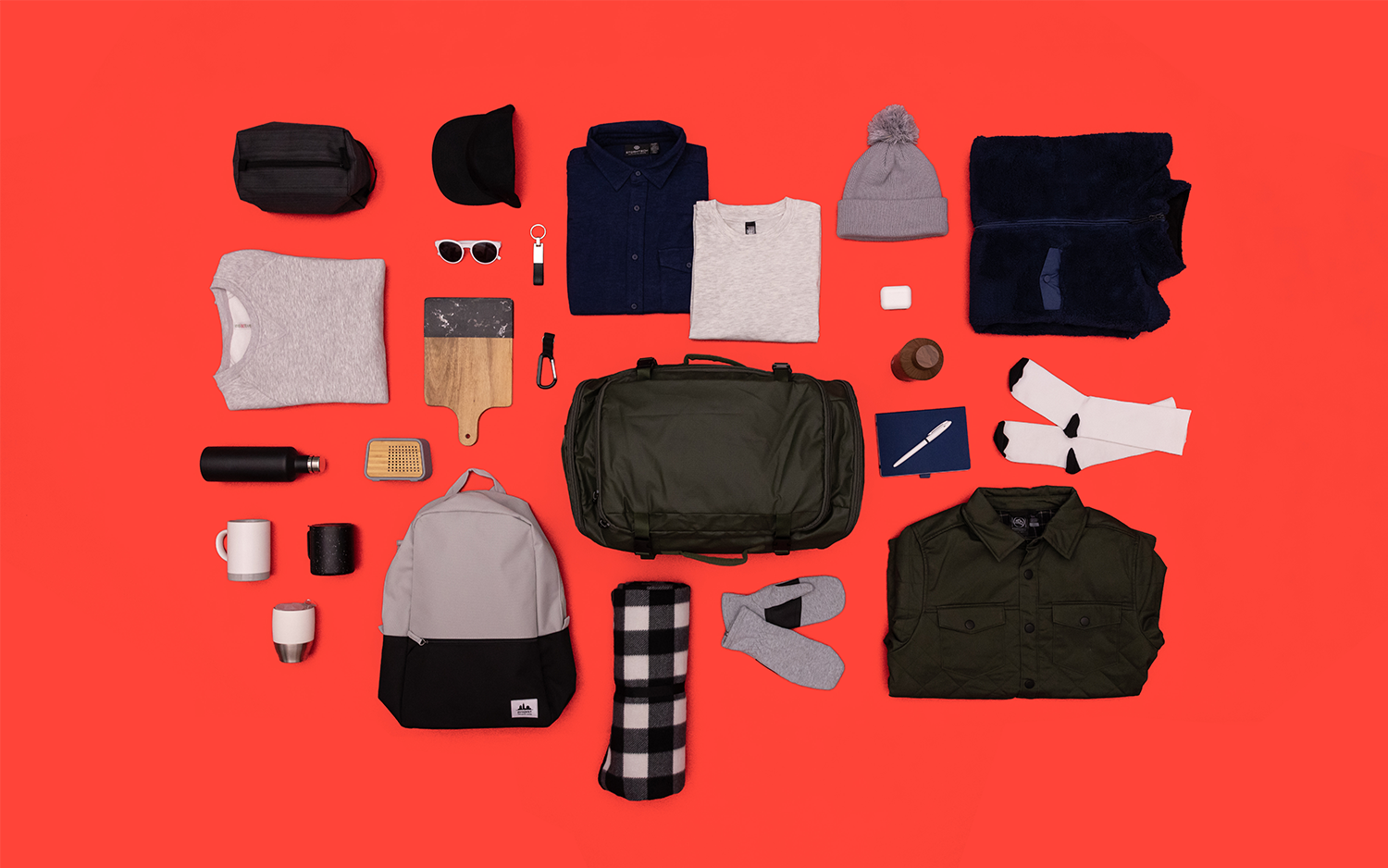 MOTIF Marketing was created to help businesses, organizations, creators, and brands of all shapes and sizes access custom marketing products that work for them.
From branded merchandise to graphic design to custom kitting and online stores – MOTIF does it all and they do it all with an unwavering commitment to quality.
The team at MOTIF Marketing has a collective experience of almost 20 years. They are experts at their craft and create best-in-class merchandise to help businesses stand out from the crowd.
MOTIF needed a website that showed off their vast set of skills, highlighted their portfolio of top-tier merchandise, and allowed their brand's big personality to shine.
The Problem
MOTIF Marketing came to us because they wanted a new website that really showed off their secret sauce – their personalized high-touch service with their customized, relationship-based, unique designs for products.
We knew the website needed to highlight their brand, as well as all of their unique products. MOTIF wanted the website to feel similar to what someone would experience when walking into their store. In other words, we needed to create a website that showed off their MOTIF magic.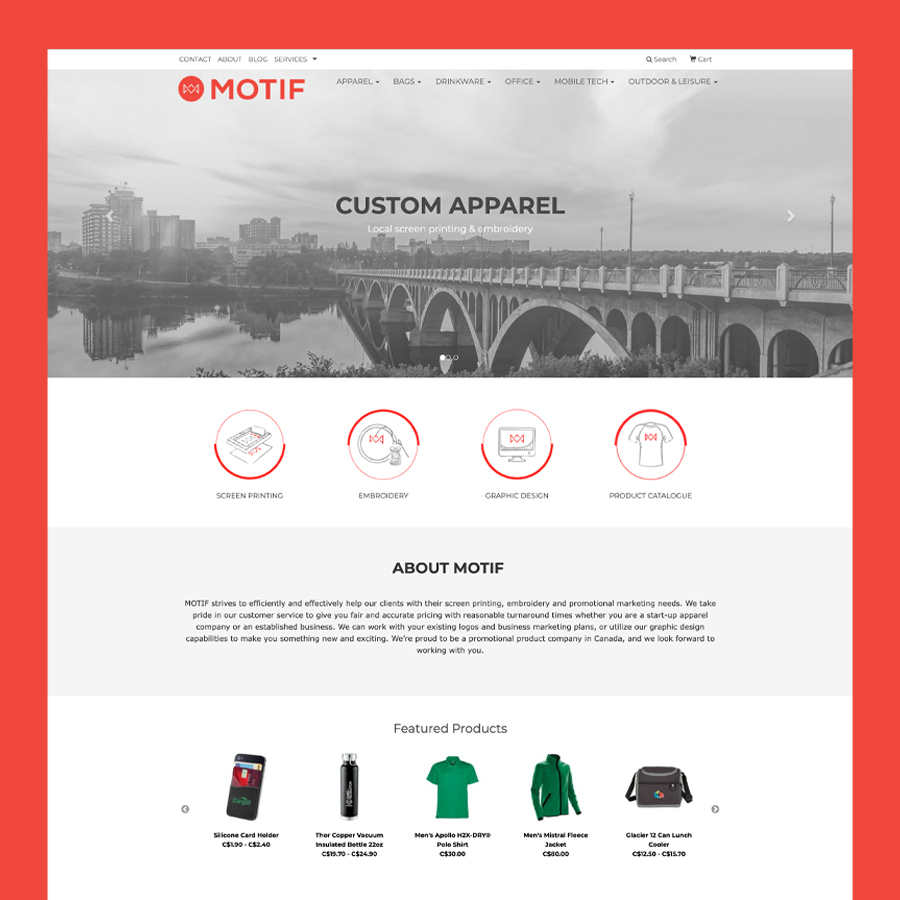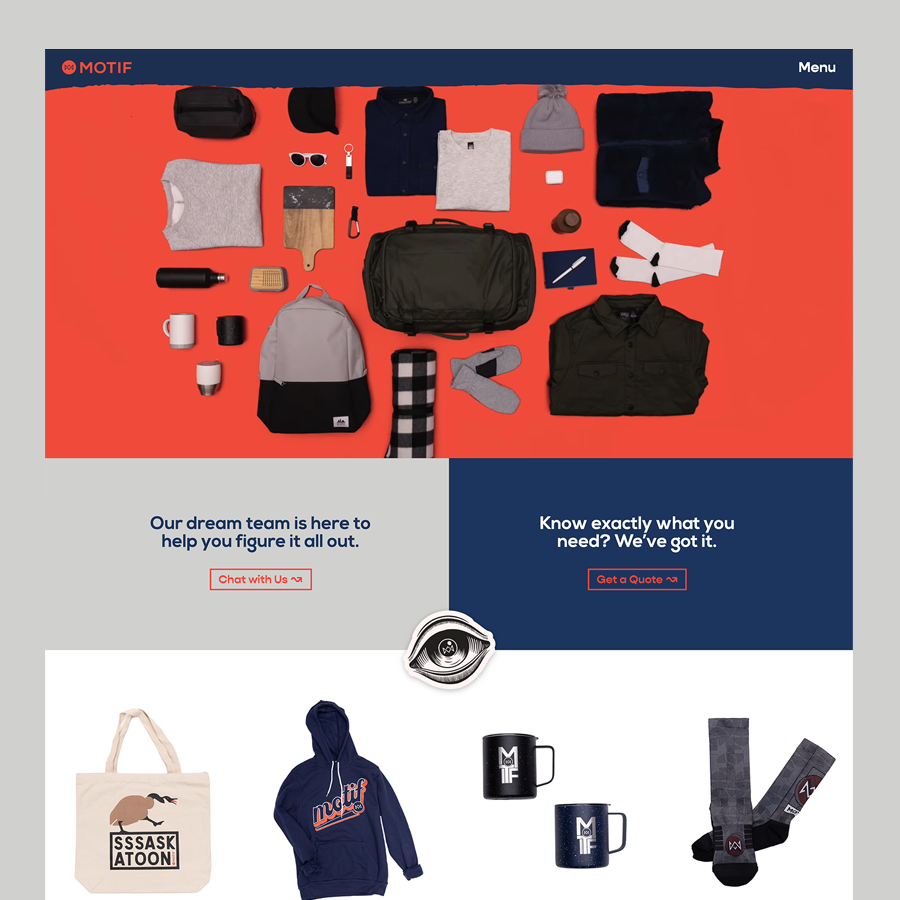 The Scope
The project scope included:
Defining brand goals, messaging, and target audiences
Developing strong and consistent key messaging
Photography & stop motion video work
Creating a unique visual style that tells the brand story
Building a new website that elevates the brand and has the same impact as the store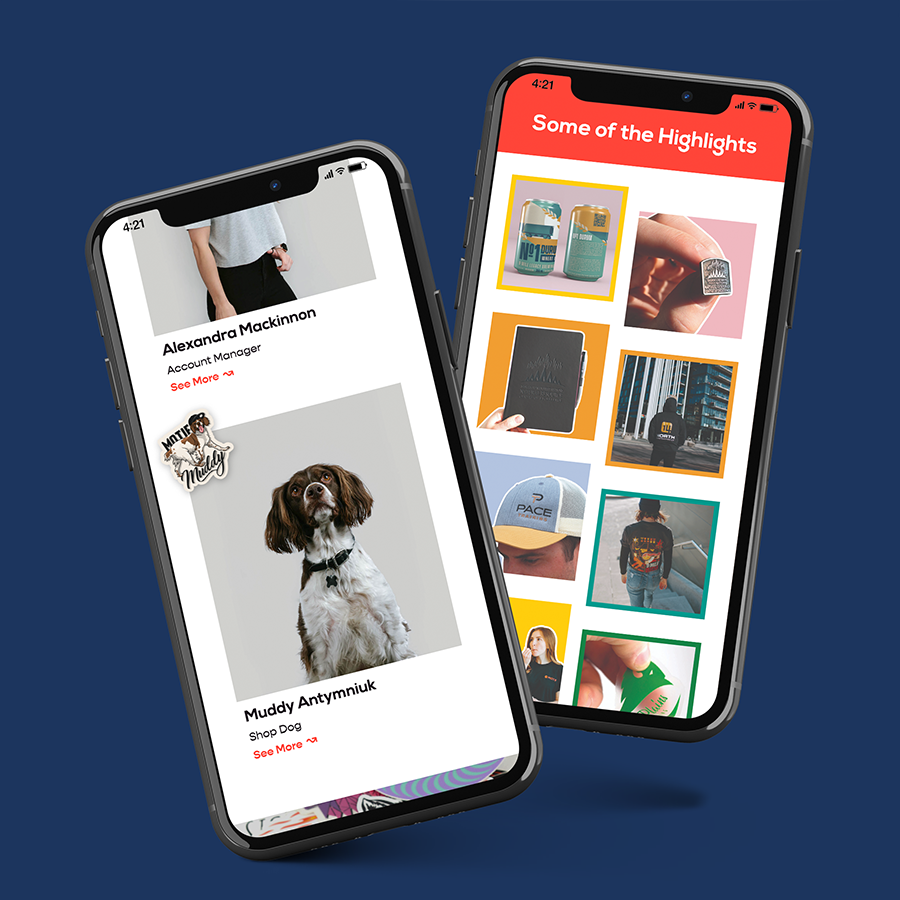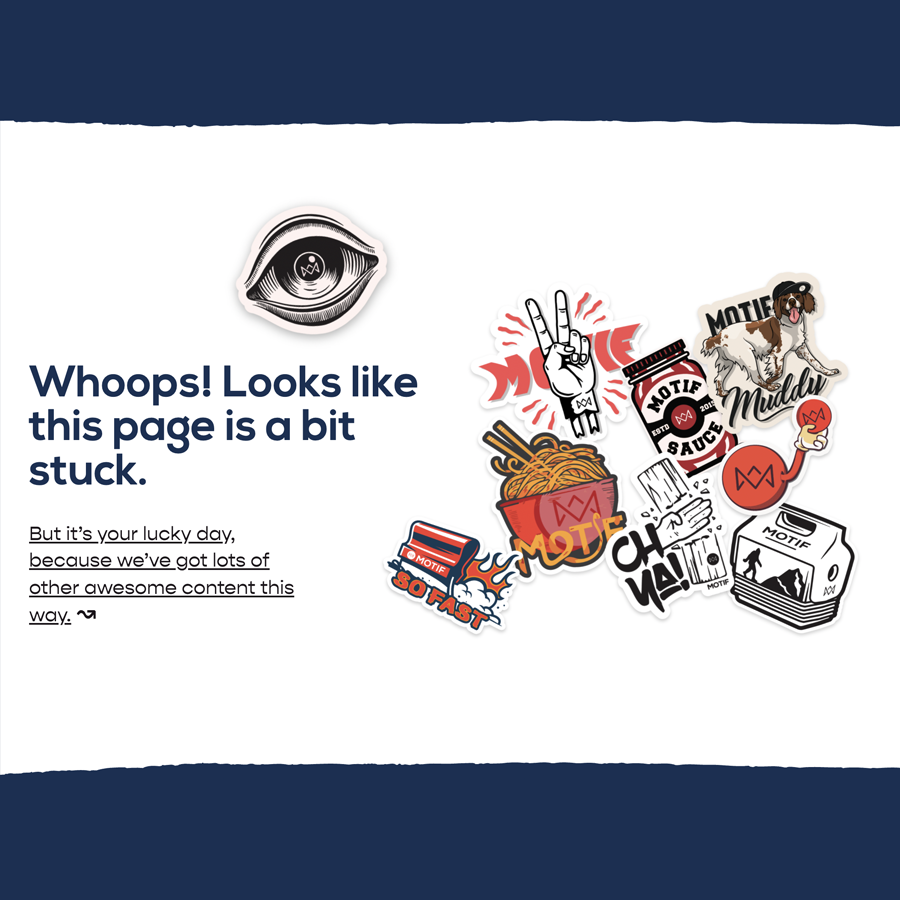 The Process
The first step in our collaborative process was to build out a strong and cohesive brand strategy. This involved completing a brand sprint, building out customer personas, defining key messaging, and copy ideation.
Our process for building a cohesive brand includes in-depth research and consistent communication with the client so that we can carve out a patch for success.
We wanted the messaging to tell a story. Early on we decided we would breathe life into their site with light, fresh, and fun copy set against a bold and eye-catching design.
The team at MOTIF is full of life so we chose colours that represent that vibrant energy. The red pops against the navy, catching your eye from the very first look.
We incorporated interesting textures, such as the wavy blobs over the images and the strikethrough over the titles and menu items to add extra flair.
MOTIF's old site was very corporate, and lacked colour and personality. Since a website often defines who a company is, we wanted to make sure we were telling MOTIF's story through the new design.
MOTIF's team offers a unique approach to creative services and design. They needed something to help them stand out, while highlighting their special process and quality craftsmanship. The new visual identity gives them a voice that cuts through the noise – it's anything but boring.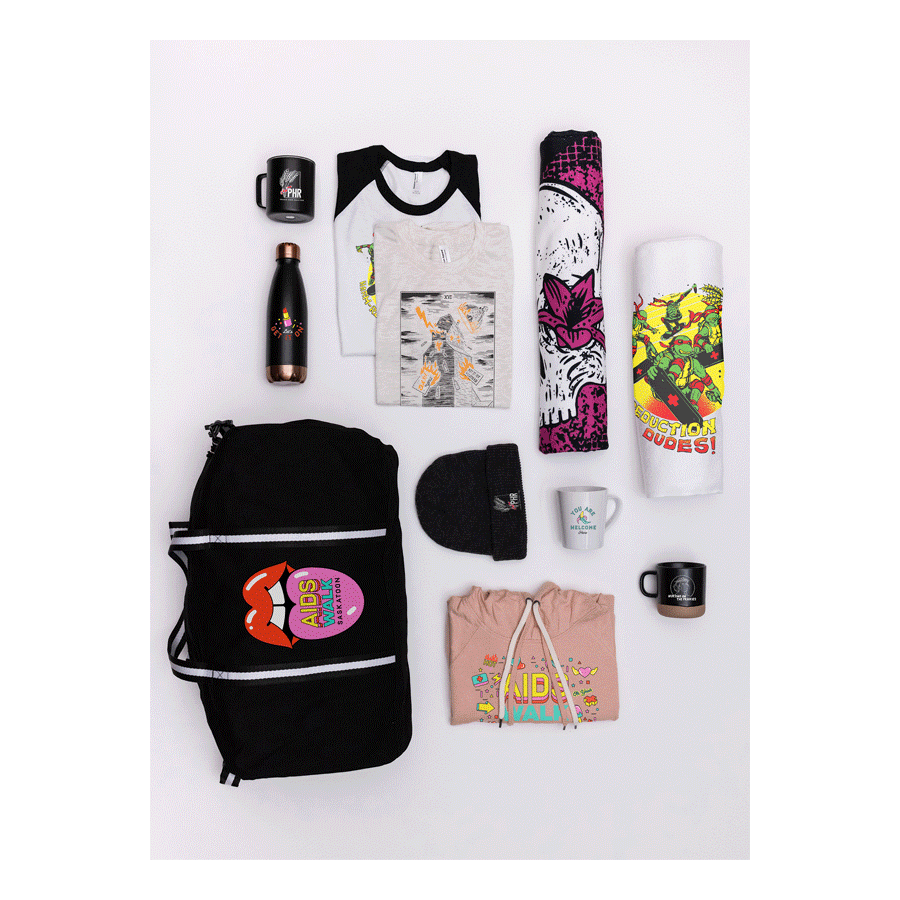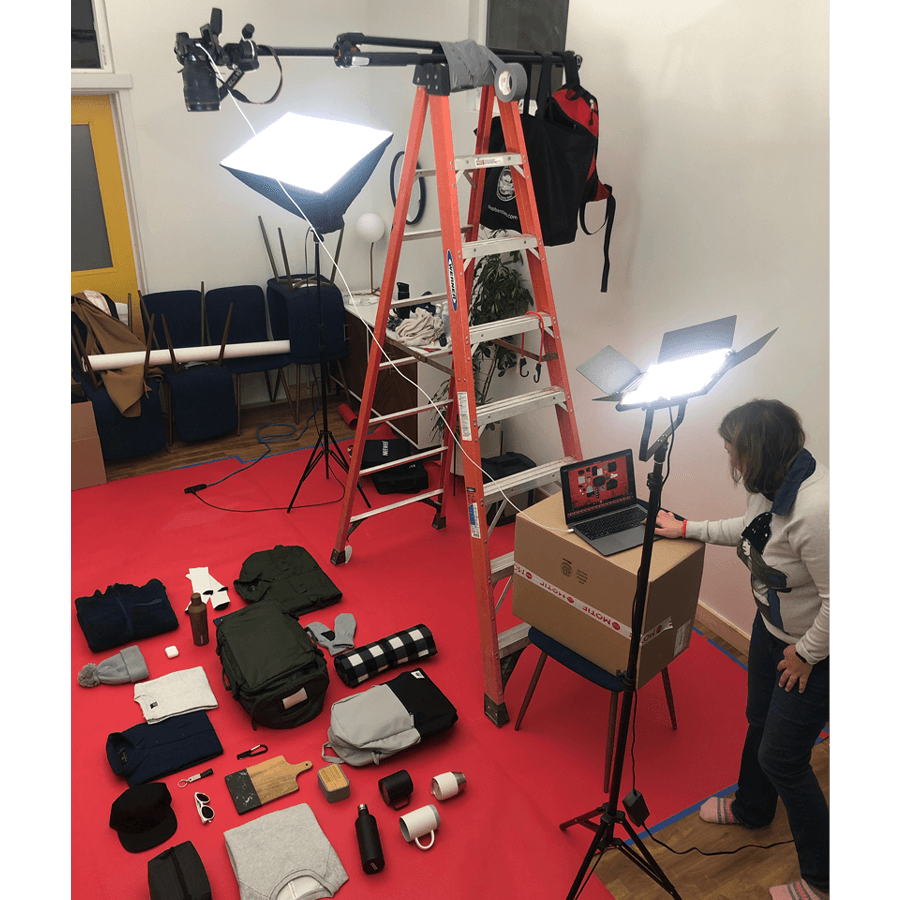 Photography & Stop Motion
A picture is worth a thousand words and we wanted to make sure that every image on MOTIF's new site evoked a strong and positive reaction.
The photography highlights their huge selection of products, while also showcasing their exceptional design skills.
With the entire site coming together beautifully, we decided we wanted a hero moment. Enter the stop motion.
We needed to figure out a way to show off all of their products in a way that wasn't overwhelming. The stop motion shows off what they offer in an interesting way, and also helps to upsell the rest of their products.
We came up with the tagline "We bring your brand to life," which works perfectly with the stop motion, as it is literally showing their products come to life.
Combining the brand strategy, visual identity, and photography, we built the website with MOTIF's goals in mind every step of the way. We injected personality into every page, using their own stickers to showcase their creative, fun energy and highlighting their quirks in the team bios – including Muddy the office dog.
From strategy to launch, our process remained open and collaborative. Together, we developed a brand and website that MOTIF can feel proud of. The launch of the new website will enhance their growth and help to differentiate them from other companies in the market.
"Our new site is a perfect representation of who we are and where we are going. It captures our personality perfectly." – Joel, MOTIF
MOTIF Marketing was in need of a brand and website that represented who they are at their core. Throughout the process we developed a close partnership with MOTIF and became an extension of their team. We loved working with these talented creatives to help bring their brand to life.
"We hit our 5-year anniversary as a business and were on a great growth trajectory but knew that if we wanted to keep moving with the same momentum that we would need to evolve as a company. This evolution was going to involve re-doing the core framework of our workflow, shedding key differentiators that had gotten us to this point but were now starting to hinder our growth and of course, our brand identity.
Our brand identity has always been one of our top priorities and we knew it was only going to be more important as we strive for the next level of success. We knew that we didn't just want a new website but needed to better understand how we wanted to position ourselves in our industry, how we wanted to be perceived by the public, and how to best evoke those crucial emotions in our loyal clients and the potential new clients that are just starting to discover us.
R&B was our obvious choice. We knew their level of professionalism and expertise was exactly what we needed to help Motif evolve. We also had an existing relationship with them through the strong local business community so we knew they were good people. Doing business with good humans makes it that much more enjoyable.
We would highly recommend R&B to anyone looking for a top notch website and market strategy/branding. They are the bomb!" – Joel, MOTIF
Through their new brand MOTIF is able to connect with their audience in an authentic and expressive way. Check out their website or visit their storefront for an unforgettable experience you won't forget.