We make some pretty big claims. We're your next big idea. The next level. The buried treasure. The above the clutter, clear voice over white noise, giraffe among wildebeest.
And it's all true. It's not easy to deliver on big promises, but we do it. Every time. And the reason we do it is the people behind the brand. We are creators. Makers, doers, designers, developers, marketers, analyzers, producers, dreamers, builders, starters and finishers. And we are all that's in between. We are Rock & Bloom.
We create and reimagine brands, and deliver projects with meaning and impact. With clients all over North America — from Saskatoon to San Francisco, Boston to Nebraska, even Midale and Regina — our work knows no boundaries. Design and strategy leads each project. We sit at the intersection of creativity and analysis, risk and ROI, function and form. The synthesis of left and right brain is what makes us able to deliver projects that are as beautiful as they are results-driven. Here are the people that make magic happen every day.
[INSERT TEAM PHOTO POST PANDEMIC 😉 ]
Heather Adams | Co-Founder and CEO
Heather Adams co-founded Rock & Bloom with the intent to assist businesses in achieving their strategic goals and to be a full service agency. She uses her extensive background in marketing, communications and digital strategy to lead clients to continual success. Her entrepreneurial spirit makes her the perfect partner for clients. As the go-to brand and business strategist for her Rock & Bloom clients, she has quickly become a crucial part of their business decisions.
As brilliant as she is sharp-witted, Heather leads Rock & Bloom's strategy. She ensures work exceeds expectations, and that strategy and design never take a backseat. Like the rest of us, Heather is an emphatic foodie with a special place in her heart for a good old fashioned turkey and mashed potatoes dinner. She makes a mean vanilla latte that is almost as good as her epic dance moves. She has an okay husband and an awesome baby with a coif to make Trudeau jealous.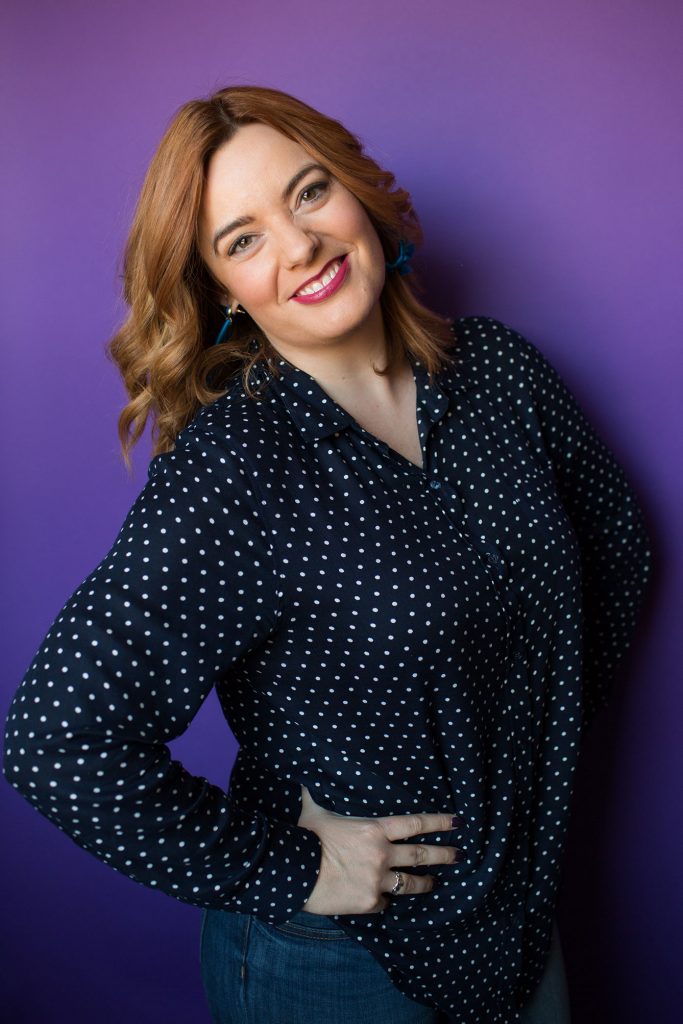 David Molesky | Co-Founder and Creative Director
Passionate, creative, perceptive. David Molesky is co-founder and Creative Director at Rock & Bloom, where he is the innovative force behind brand identity and design. Rock & Bloom was launched as a full-service design firm, born of the idea that design, innovation and strategy should never take a backseat. David lives these principles — his passion and pioneering nature drive a growth mindset through Rock & Bloom. Over 15 years of design experience combined with his Bachelor of Engineering and Bachelor of Science in Computer Science provide David the unique ability to translate ones and zeros into user-friendly design, client conversations into masterful brands. Whether it's working on the front lines with clients or programming websites, designing imaginative brands or developing mobile apps, David's unique blend of left and right brain are invaluable on projects of all scope.
David single-handedly keeps Dr. Pepper in business, and they should be eternally grateful for his soda consumption. He has seen every new movie before you've even heard of it, and will give you a very logical breakdown of its merits. He's one of two men on our team, so takes the brunt of the gender pay gap, political gender divides, and other inequalities on a day-to-day basis. When he's not at his ergonomic desk, you'll find David riding his Peloton at rage intensity to prove his physical superiority, or disc golfing to prove he has flaws, too. He has the cutest toddler who has his propensity for antics.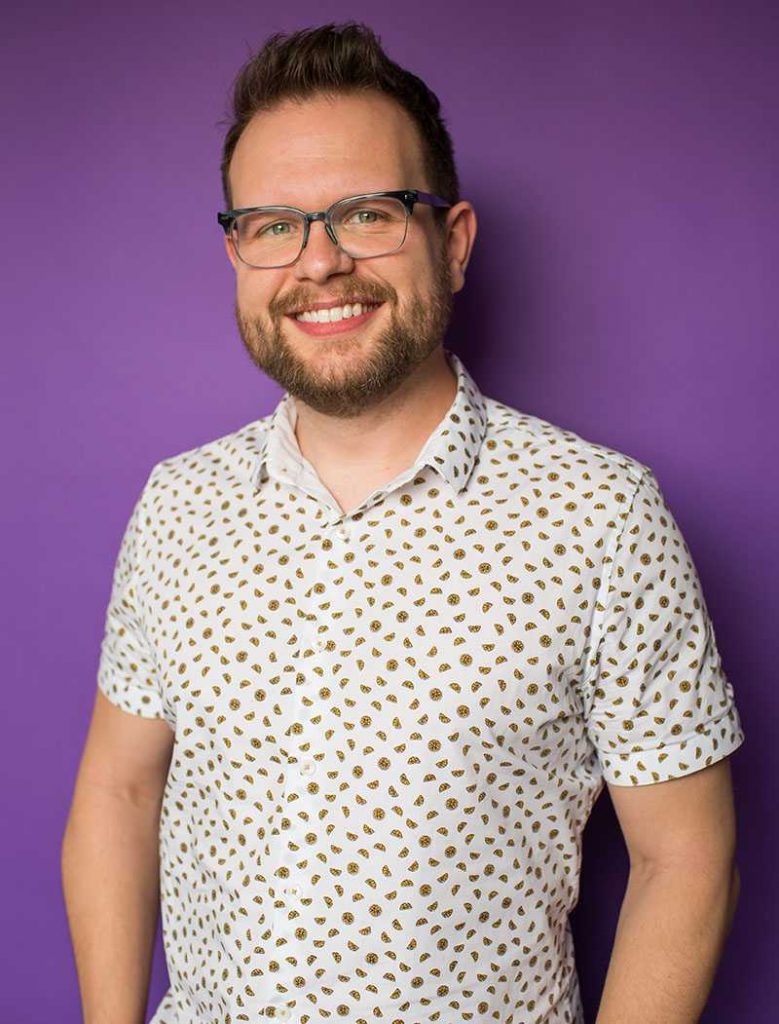 Marli Bells | Lead Developer
Marli Bells is a programmer and skilled web developer with extensive client experience. Passionate about strategy and development, Marli has led developers to success on a variety of complex projects. She successfully launched the Saskatchewan branch of Ladies Learning Code, and is a frequent guest lecturer for the Saskatchewan Polytechnic and at the University of Saskatchewan Department of Computer Science. With more than a decade of experience, Marli's skills have become part of her identity.
It's no wonder that Marli is one of the most sought after web developers in Saskatoon and beyond — her skills are unparalleled, she's fast like a political downfall, and always delivers beyond expectations. Marli has single-handedly developed huge websites in short amounts of time, blowing client expectations out of the water. With an affinity for robots and internet culture, Marli seems to know everything digital well before anyone else. She is tragically hip and knows everything before you do. Though we call her the office bully because of her witty, cutting remarks, Marli is one of the nicest people you will ever meet (though she may try to hide it from you). Married to James-not-Jim, she has two hilarious and abnormally adorable girls, Heidi and Shea.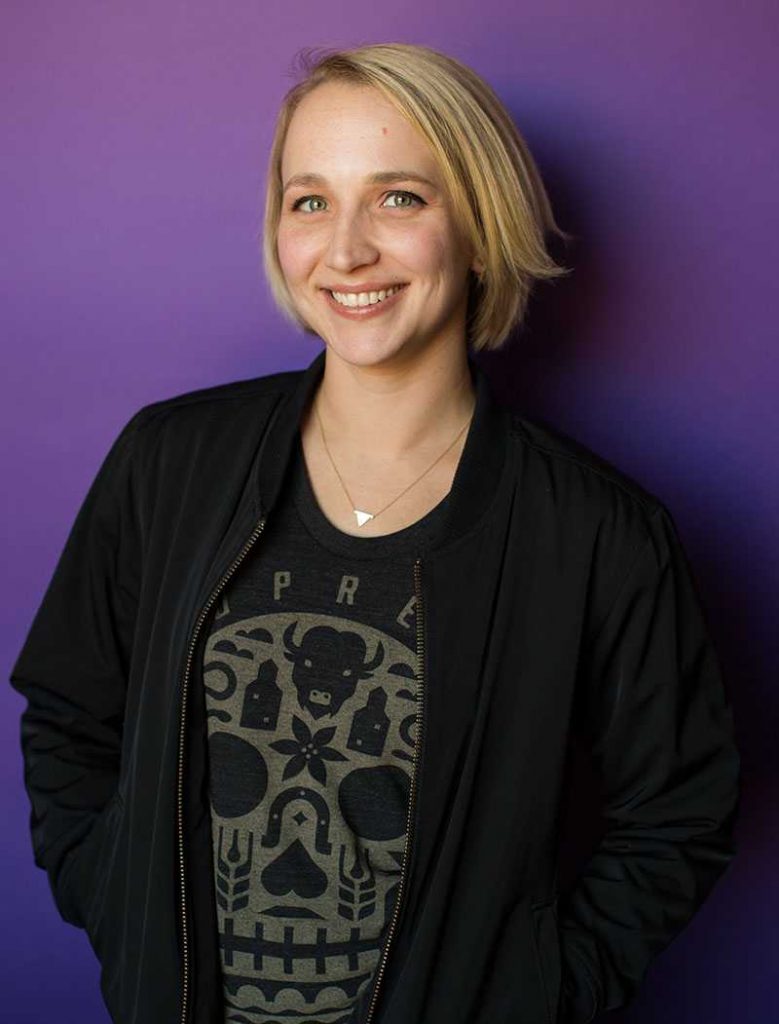 Amy Prokop | Account Manager
Amy brings amazing digital savvy and agency experience to Rock & Bloom. Not only does she have experience managing large digital projects, she delivers them on time and on budget. Amy has a keen sense of complex business needs and an inherent understanding of strategy. She keeps our team running, deadlines in sight, and all the while builds strong relationships with her clients. Having spent the last several years in the tech industry as both a project and an account manager, Amy can use tech monikers with the best of 'em.
Since Amy is an athlete to the core and has a deeper appreciation for sports analogies than a suburban teenager, we'll try one. Amy played point guard for the Huskie women's basketball team for five years. Playing point means running your team's offense while getting the ball to the right players at the right time. Now Amy's playing point off the court, guiding Rock & Bloom's players from concept to delivery. Her athletic prowess and business acumen complement each other perfectly — a kinesiology degree and a business degree; playing point guard to managing large-scale digital projects; communicating an offense to pushing clients ahead of the competition. A player and a coach, literally and figuratively, Rock & Bloom got a first round pick with Amy. She's also a World Bunnock Championship silver medalist (c'mon, you don't know what bunnock is. We totally did before Amy…). Hanging out with friends and playing board games, Amy continually sharpens her strategic brain. On the winning end of everything, except a good immune system, she is the most just slave drive you'll ever meet.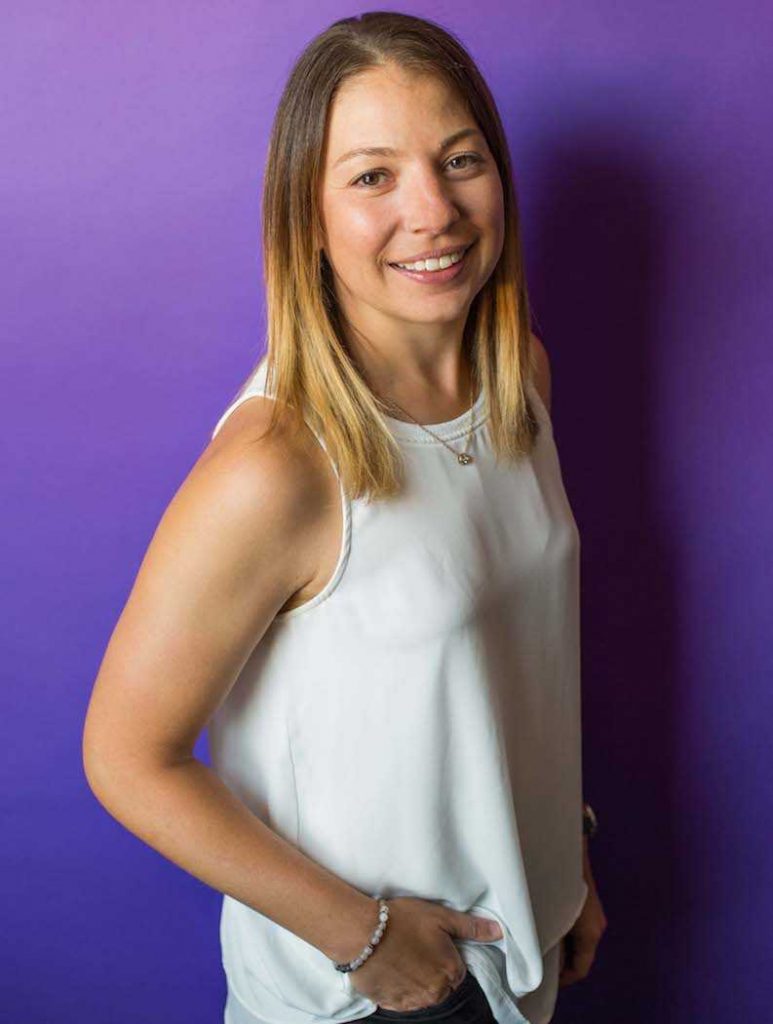 Matt Horning | Developer
Matt is an exceptional developer, obliterating technical issues with a few keystrokes. He's also an amazing self-taught designer with a unique perspective on everything, bringing a unique key to every problem. With two degrees from the U of S — Cellular Biology and Computer Science — we plan to learn a lot more about our genetic makeup, and also hope there is room for Matt to explore his side passion of computer science. A former Moose Javian, Matt grew up skateboarding, playing playstation and ballin' in his driveway.
He's always had a love for the web, and has been lurking gaming forums and designing clan tags and banners on Adobe CS2 since before you were alive. While studying psychology, Matt developed a passion for interaction and animation. Matt's mesh of left and right brain will be put to good use — problem solving technical issues while putting his artistic design side to the test.
Matt is painfully cool, and a constant reminder to us all that we are not. We're happy to say that he's overcome an extremely unhealthy addiction to shoes, and has paired down his shoedrobe from ~40 pairs of Nike's to ~10 pairs of Nike/Adidas. He's been teaching himself how to bake, which is of great benefit to us. And when Matt learns something, he moves from amateur to holy-hell-you-made-that in record time. Generous in spirit, Matt is known to deliver fresh baking to teammates' homes on the regular. It's one of the reasons he's everyone's favourite.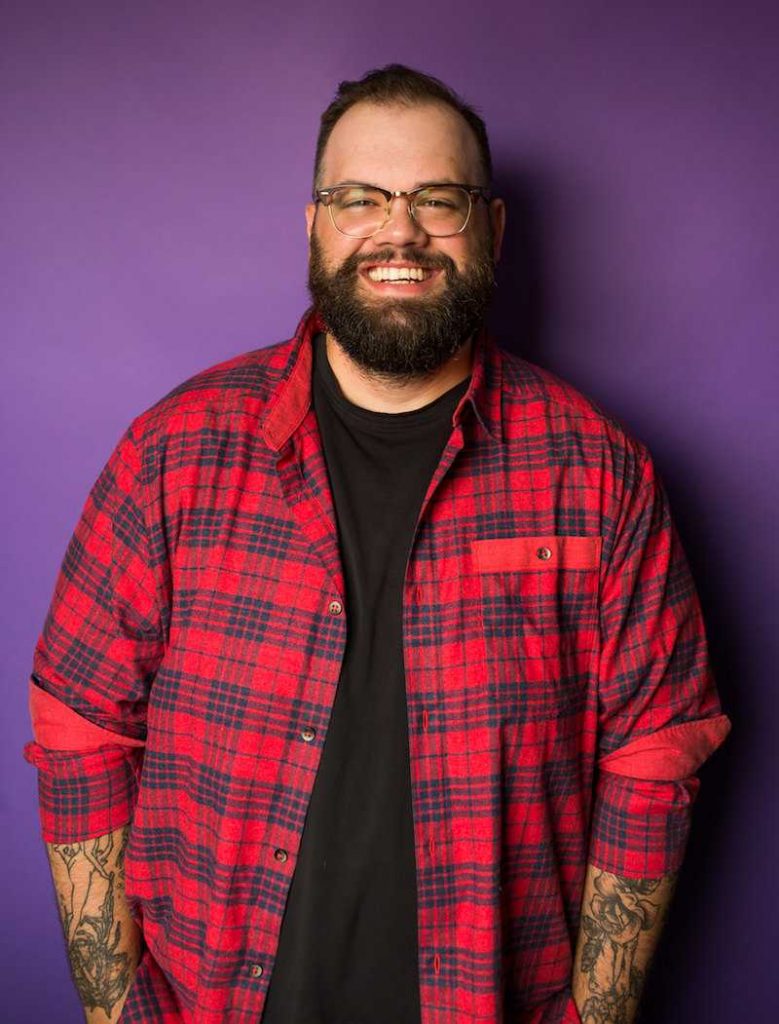 Molly Lux | Account Manager
Molly Lux is Rock & Bloom's daily dose of vitamin D. Her sunny disposition is tempered by quick wit and boundless creativity. Bridled with an entrepreneurial spirit, Molly founded and ran one of Saskatoon's most successful event management platforms, Lux Events. After nearly a decade in the event space, Molly moved into project management and a different time zone. During her tenure at Creative Destruction Lab (CDL), Molly worked to deliver objectives-based programming for massively scalable, seed-stage, science-and technology-based companies.
Her spreadsheet pizazz and nanosecond time management capabilities ensure impressive results that are always — always — on time. Eager, energetic, and enthusiastic, clients and team members love Molly's vigour. Creating a vision and bringing together the resources to execute is her gift. She's one of those people that you love as soon as you meet, that transfers her infectious smile to you. Molly lives in Toronto with her husband Brent, daughter Nora, son Jack, and their dog Sammy.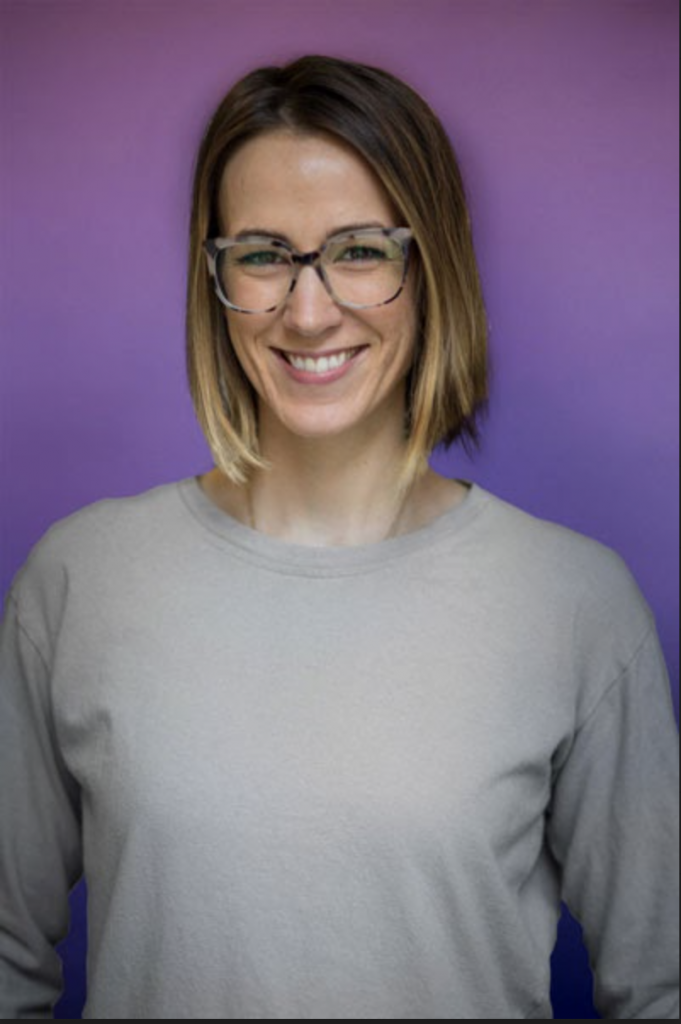 Nhi | Developer
Nhi is a crazy talented developer and about the coolest person alive. You'll find her crushing code like a champ at the weirdest hours, making her technical prowess look graceful and easy. Other devs say she has beautiful and fancy code, and we just have to take their word for it. From the front end, her skills are obvious — she turns wild dreams into usable functions, marketing requests into well-appointed tech. Hailing from another agency, Nhi came to Rock & Bloom fluently speaking many technical languages. She went to university to pursue a degree in business, but took one computer science elective, and bam, found her passion. We're all better for it.
She has the best taste in…everything. Highly sophisticated, nuanced, curated taste. You might not agree — like why wouldn't we have chocolate chips in cookies? — but Nhi will convince you. You'll waver on things you used to hold as god-given truths. An incredible artist, her drawings line the walls at the office, bringing us all joy. Her talent is so obvious and beautiful. She's also weird, in a good way obviously — one indicator is her extensive keyboard collection. She helps us curate the best asian food in our shopping carts, carefully dissecting the merits of the better instant ramen bowl. We are suspicious that her two cats help her write some of that immaculate code, but there appears to be no regulations that restrict this.
Valerie Baier | Senior Designer
Val is a design trailblazer, pushing boundaries and pixels. With more than a decade of design experience, we are lucky to have her on our team of subject matter experts. From legacy website companies to startups, Val's built a unique skillset. With each challenge, Val distills a beautiful solution through expert visual concept design. She brings ideas to life on a computer screen and IRL. Clients love the aesthetics, and users appreciate the thorough research and thought behind each wireframe.
Val started with Rock & Bloom in March of 2020. Though the timing appears ominous, Val's helped make 2020 not only manageable, but great. Through some weird times, we're happy to report that Val is thriving! Wife to only one man, mom to two girls, a dog, a cat, and an inordinate number of house plants, Val's the perfect amount of quirk for the Rock & Bloom team.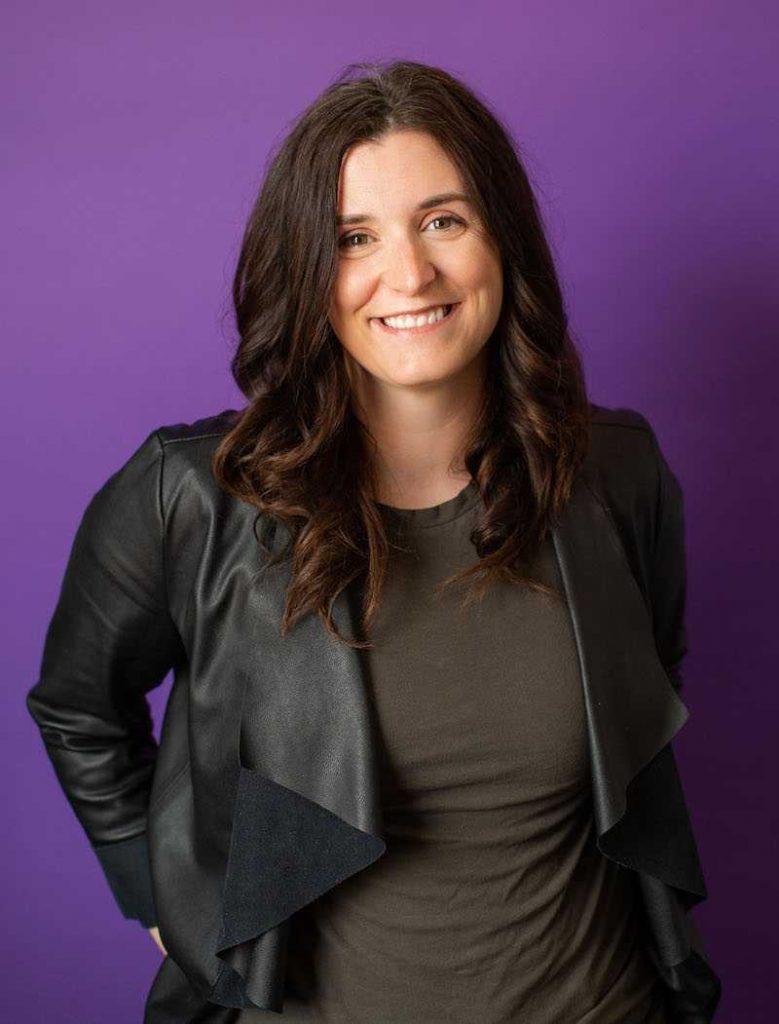 Jill Leclerc | Designer
Jill is the brightest ray of sunshine in our office and in our meetings. Her cheerful optimism and rose-coloured glasses are infectious and so appreciated. Designing with intent, Jill always keeps the viewer in mind. Clients are blown away by Jill's creativity and conversion-centered approach, and beautiful results. Her unparalleled enthusiasm is just the best.
From humble beginnings screen printing in her parents' basement using her Dad's old rink light to a career in graphic communications, we're so lucky to have nabbed Jill. Her keen eye for design and photography has been a huge help with the tall list of projects we always have on the go. When she's not hanging with us in the office she's likely exploring the rivers or hiking the hills of Saskatchewan, dabbling in the garden, or setting sail in her canoe (of which she owns half). She likes vegetables more than any person, and is a top contender for the best aunt award.
Nykea Behiel | Director of Marketing
Nykea Behiel is Marketing Director at Rock & Bloom, and has been in the industry for more than a decade. As a brand storyteller and marketer, Nykea specializes in writing, leadership, and content creation, always with a focus on creativity. Nykea creates full-scale marketing strategies for businesses across many verticals, and offers the tactics required for implementation. From creative brief through to measurable results, her role requires constant innovation, creativity, and business acumen. Nykea has spoken at events locally and internationally, including FUZE marketing conference, VendastaCon (Austin, TX), Professional Photographers of Canada, SREDA, SYPE, YWiB, Ideas on Tap and many more. Finding the story in a brand, a movement, a life, is her passion.
She's also our daily dose of too much, always taking a concept, theme, or joke a little too far. Nykea's an emphatic feminist, and can often be found sporting a uterus print sweater to prove it. She is married to her best friend, fellow creative, and partner in crime, Edward Sedgwick. The two have a son, Hart Wilde, and the sweetest monster of a mini goldendoodle, Olly. Her family helps her stay true to her core values of creativity, connection, and curiosity.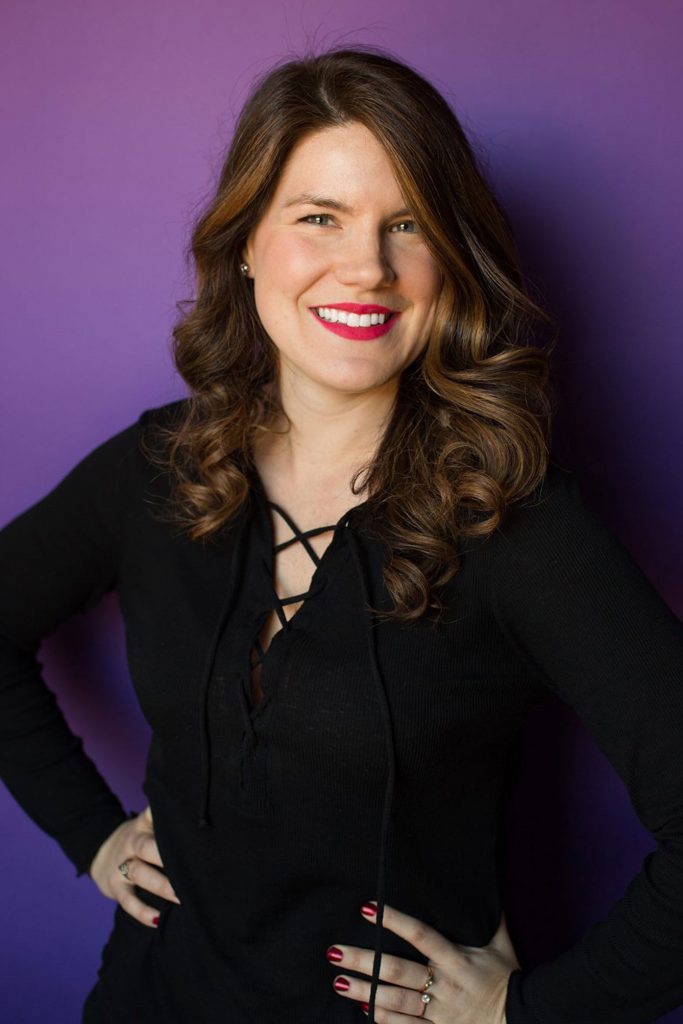 We're Different.
Our biggest differentiator? We get brand management. Brand isn't static —- it's ever changing, in a state of constant flux, having life breathed into it by your customers and transmorphing every day. The brands we create and reimagine are full of vigor and intensity. We create something amazing, and then we focus on what can be better. There is no state of perfection, though we'll constantly work to achieve it for you. We're agile, explorative, innovative, curious and excited. At Rock & Bloom, we like to be involved in projects from the spark of an idea through to fruition and reporting so we can build a brand representative of your passion.
We're a team of experts who love what we do. Our work is part of what defines who we are, and we're proud of that work. Your success is our success, and we like to win.