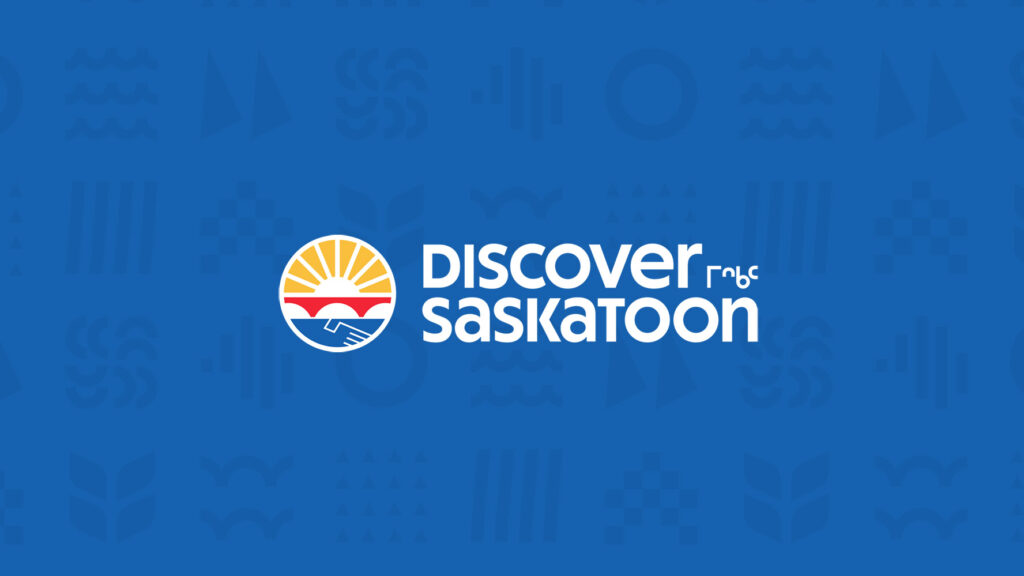 The Discover Saskatoon rebrand is an invitation to discover Saskatoon.
This land has always been a gathering place. Locals and visitors alike gather here to feel kinship and experience our story. Somewhere between big city and small town, traditional and innovative, bustling and peaceful, you'll find Saskatoon.
The new brand identity, which was launched on June 15, 2022, includes a new name, logo, colours, symbols, and font designed to unify, differentiate, and inspire.
This brand was created through community consultation and an intense uncovering process. The team at Rock & Bloom collaborated closely with Tourism Saskatoon to bring this brand to life. Together we formed relationships with the community, engaged in thoughtful and important conversations, and worked in tandem to create a brand that is both authentic and inclusive, one that is welcoming, inspiring, and representative of kinship and connection.
Discover Saskatoon
The brand identity was created with intention and you can see the thought that went into each and every aspect of it.
Icon
Created by local artist Christine Marie, a woman of Métis and Filipino roots, the new icon is warm and inviting. It serves as a visual reminder that we are all treaty people, crossing bridges together in the land of the living skies.
The three sections – the sun, the bridge, and the handshake – all play an equally important role in this icon, which represents our beautiful and diverse city.
Wordmark
The wordmark is unique and striking, with input from one of North America's most sought after typography artists, Jessica Hische. The unusual mix of capitalization and lowercase reveal an informality and an element of spontaneity.
The wordmark is an invitation to truly discover and experience Saskatoon. The font is accessible yet expressive, playful yet professional, and soft yet bold. It represents our people and our community.
Cree Syllabics
Cree is the most widely spoken Indigenous language in our region, but it is not the only one: in reaffirming our relations with Indigenous peoples, we acknowledge these lands are also the traditional hunting grounds of the Métis, and a gathering place for both Dakota and Nakota Sioux.
These syllabics invite locals and visitors to place themselves in this traditional territory and gain a deeper understanding of our strong culture.
Brand Symbols
Discover Saskatoon's brand identity includes 10 symbols, drawn from inspiration in and around our city to represent the diversity and complexity of our city while also providing some visual texture to the brand identity. These symbols are powerful on their own, but together tell the story of Saskatoon.
Working with Tourism on this new and refreshing brand identity was an absolute privilege. From early conversations with our tight-knit community to an iterative and collaborative design process, this project holds a special place in our hearts. We are so proud of what we have accomplished – together – for our community and our city.
"As residents of Saskatoon, we were passionate about this project from the get go. We are honoured that our work now plays a part in inviting others to come to discover our amazing city. As creatives and brand strategists, bringing a new level of interest to our city so that it can be better seen on the world stage is beyond rewarding."

– Heather Adams, CEO, Rock & Bloom
The Discover Saskatoon brand is not stagnant — it is living and breathing, and people like you need to fill it with life. Use this brand when you represent Saskatoon, and continue building our image on the world, national, and local stages.
About Rock & Bloom
Rock & Bloom is a top-tier brand design studio that leaves a lasting impact on your growing business. We take an authentic and honest approach to every project we touch. We create killer brands that shape perceptions, build an audience and drive sales.